October 28, 2010
We have made it to New Plymouth and I am writing this update from a Beaurepairs Service Center.  Tonight we went through the car for a mid-week check up, went through the oil change, checked brake wear, tires, etc.  Also the guys are having to fix the front lip after a local at one of the lunch stops guided Steve straight into the curb when he was trying to get into the parking area for lunch.  They had stacked up some blocks of wood to get over the curb and with three guys watching they guided him straight into the curb and pushed the front lip back!  Mark and Joe have had a pretty easy week though compared to Newfoundland so I guess it's good to keep them up for a night.  All is good on the car and the teams spirits are high. 
We came to the service center to rotate the tires on the rims.  Today was another hot day and we saw some pretty serious tire wear occurring and we want to stay ahead of it as tire consumption is a big part of the strategy on the Targa rallies. Read more
October 27, 2010
We are in our second night at Palmerston North and have some good news!  Steve is really enjoying the car and having a great time.  He pushed hard today and caught some ground on Proctor in the Metalman car but unfortunately another car caught more ground and squeaked ahead of us by a few seconds.  So, currently we're running 4th overall but making gains on the competition.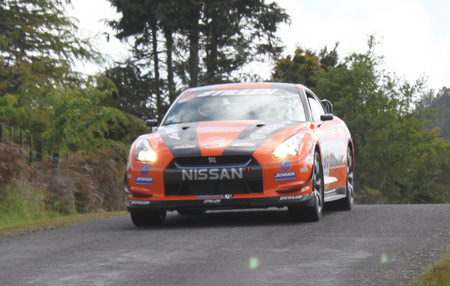 Something I did not include in yesterdays update is the great sportsmanship on this rally.  People work hard to help each other and teams competing against each other have been known to lend a hand and help their competitors to get them back on the road a little sooner.  Last night both Proctor and Dodson developed leaky Read more
October 26, 2010
I am writing this from the hotel in New Plymouth.  The good news is, the STILLEN GT-R is running very well and Steve and Phillip are doing very well and working great together!  Steve took it kind of careful today as he wanted to see how the tires were going to fair.  These Dunlops are looking great and are showing hardly any wear.  We are very excited to see how they work through the week!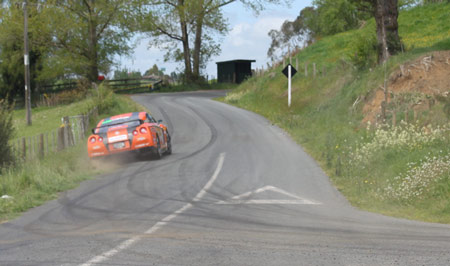 (For a larger version, click here)
 
Today was unusually tough as the weather was uncharacteristically warm..  The roads were hot and we really expected the tires to start wearing heavily.  However, The GT-R is running strong and working very well!  Read more
October 25, 2010
Well, I am sitting in the hotel room in Manakau (man-ah-cow) and I'm a bit confused about this week in New Zealand with the STILLEN team competing in the Targa Rally.  In 2006 I packed some board shorts, t-shirts, shorts, a couple pairs of jeans and a light wind breaker.  I immediately went down and bought myself a heavy jacket, jeans, and some rain gear.  In 2008 I was optimistic and brought down a pair of board shorts, couple pair of shorts and some t-shirts along with a heavy jacket and jeans.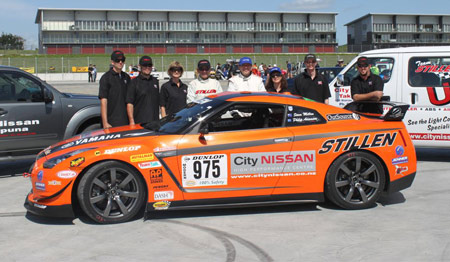 Upon my arrival I dumped the T-shirts, shorts, and boardshorts at the house as I realized I wouldn't need any of it for the week.  Just stuck with the jeans and jackets and was good all week.  This year when I packed I laughed when I saw my clean boardshorts sitting in the closet, grabbed all my jeans, my heavy jackets, and one pair of shorts and a few shirts.  Now I'm convinced that New Zealand is messing with me.  We haven't had a drop of rain or even a menacing cloud and the weather reports are good for most the week with some rain possible towards the end of the week.  Just my luck!!! Read more
October 19, 2010
Well, it's that time of year again.  Every year around this time we prepare for Steve Millen to send the race car to some far off country or island where we will race for 5 days straight and cover nearly 2,000 miles.  In 2009 the team took on the challenges of Targa Newfoundland for the first time and brought home a first place finish in the modern division, first place finish for the manufacturers, and put down some new stage records on the public streets of Gander and others.  It was an amazing journey that saw the unveiling of the STILLEN GT-R in Targa rally competition.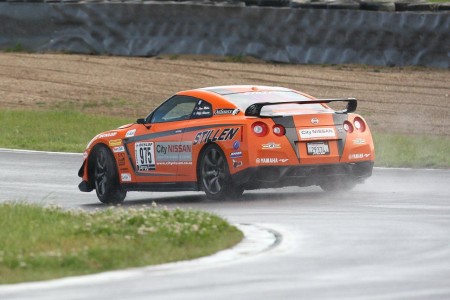 If you've been following the STILLEN GT-R race-car you've seen that upon completion of the Targa Newfoundland rally the car was immediately driven by Read more