August 18, 2008
Rounding out the 2007-2008 Altima Sedan body components is the two rear treatments offered by STILLEN.  The STILLEN Rear Wing (Spoiler) is a very sleek, subtle and clean way to add an aggressive look to the back of the Altima.  The STILLEN Roof Wing complements both the STILLEN Rear Wing and the OEM wing alike, and adds a unique touch to the car that you can't help but notice.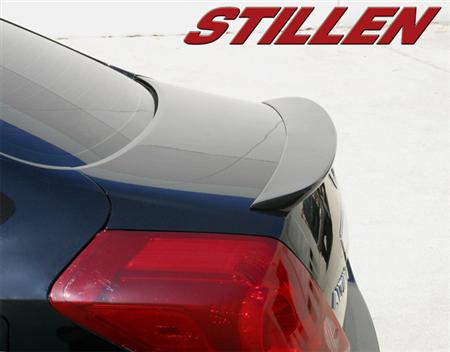 More photos and information after the jump…
August 11, 2008
We have released the STILLEN 2007-2008 Altima Sedan Front Lip Spoiler, as well as the Side Skirts (Rockers).  The Lip Spoiler is an alternative to the complete Front Fascia which is also available.  The Side Skirts are a perfect match to either front treatment choice.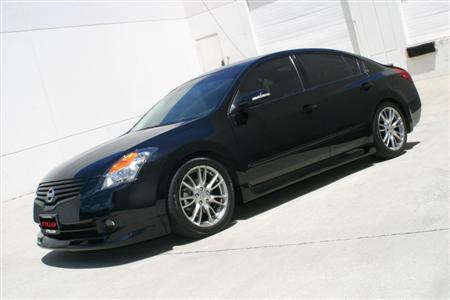 More photos and information after the jump…
August 7, 2008
Working closely with members at the popular forum cherokeesrt8.com, we developed a unique front headlight accent which covers a portion of the stock headlights, framing the circular nature of the Jeep Grand Cherokee headlight design.  These covers fit on 05-07 Grand Cherokee and 06-07 SRT-8 models.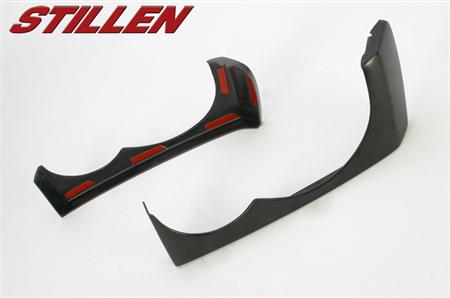 These headlight covers are constructed of solid urethane, designed to be painted to match the exterior vehicle color, and snugly fitting with OEM quality.  For added security on installation, 3M tape comes pre-installed on the pieces, securing the accents to the vehicle's headlights.
More pictures and info after the jump… Read more
June 27, 2008
The wait is nearly over, the Altima Coupe Splitter is almost ready. Pictures of this Urethane piece can be seen below installed on STILLEN Customer and NICO Member RJDMMFL1′s clean Altima Coupe.
These splitters can be installed with or without the included stainless steel turnbuckles, but we recommend additional support via screws underneath the piece for added structural support.
The splitters do come painted in flat black, which provides some UV protection for the raw urethane.  These pieces are done with a harder urethane than we use for our typical body components, offering additional rigidity upon installation.
Thanks for coming down RJDMMFL1, those illuminated kick plates looked very cool in person!