STILLEN Brake Pros is proud to introduce the AP Racing Front Big Brake Kit and AP Racing Rear Big Brake Kit for the 2001-2007 Mitsubishi Lancer Evolution. The front kit utilizes AP Racing 6-Piston Calipers, 14″x1.25″(355mm x 32mm) 2-Piece Cross Drilled & Slotted (or Slotted Only) Rotors and the rear kit uses AP Racing 4-Piston Calipers, 13″x1″(330mm x 25mm) 2-Piece Cross Drilled & Slotted (or Slotted Only) Rotors. Both kits include high performance Mintex Xtreme brake pads, stainless steel brake lines, and all necessary brackets and hardware. The factory parking brake is also retained with our rear kit.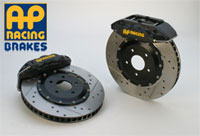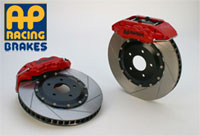 These kits will CLEAR THE STOCK OE EVO MR 14-SPOKE BBS WHEELS!
The front kit is expected to begin shipping by Mid-September (update 9/16 – Now Shipping!). The rear kit should be following shortly thereafter.
When these kits are combined they are a perfect upgrade for anyone looking for additional braking performance for spirited driving and track days. The combination of 6-Piston and 4-Piston Calipers, two piece large diameter rotors, dramatically improved Brake Pads, and Stainless Steel lines will ensure a firm pedal, zero brake fade, and improved stopping distances.
Mintex Xtreme Brake Pads are very high performance street pads that can handle temperatures from cold to over 1300°F, and are linear and predictable under all conditions. These pads have excellent grip, but retain important features like lower brake dust, moderate wear rates, and are much more rotor-friendly compared to other high performance compounds.
AP6800 Front Big Brake Kit Specifications
AP Racing 6-Piston Calipers (Black or Red Calipers)
14″ x 1.25″ (378mm x 26mm) 2-Piece Cross-Drilled & Slotted Rotors (or Slotted Only)
High Performance Mintex Xtreme Brake Pads
Stainless Steel Braided Brake Lines (DOT Compliant)
All necessary brackets, hardware and instructions are included
Fits 2001-2007 Mitsubishi Lancer Evolution

AP6850 Rear Big Brake Kit Specifications