On Saturday July 26th the STILLEN team headed out to the Auto Club Speedway in Fontana, CA with the STILLEN Ford GT to do some testing on the infield road course during the Speed Ventures open track day. It was a great day and we learned a lot about the new parts and were able to test out the new Michelins, we were hoping would provide the additional traction needed for the beast.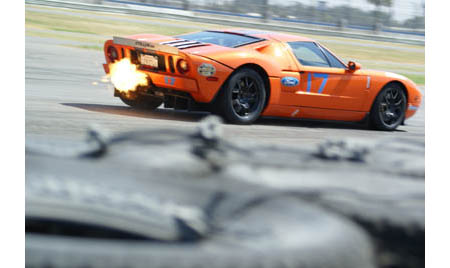 The car handled alright with the stock wood (I mean ummm….rubber?) After the first session we decided to throw on the new Michelin PS2's. This is a nice tire and has quite a bit more grip. These tires are a little bit shorter and quite a bit wider (two inches to be exact.)

During the second session the car definitely liked the grippier Michelins but it was having a little trouble with oversteer. Steve reported that the car was loose getting into the corner and loose out of the corners. So, we brought the car back into the pits and lowered the Penske adjustable coil overs 1/4 of an inch in the rear. This made a huge improvement during the third and final session. Half way through the third session Steve brought the car in to make some rebound adjustments on the Penskes. By the end of the third session Steve was all smiles and is confident the car will be a solid competitor for the 2008 New Zealand Dunlop Targa Rally.
Some of the new goodies we were testing include:
New AP Racing Clutch- 30% smaller and lighter than factory, "rally-style" engagement. This means that the engagement is quicker than a normal clutch, but still needs to be able to handle street driving.
Front and Rear AP Racing 6 piston brake kits with the brake bias moved 2% to the rear brakes.
New Supercharger- Eaton TVS2300 blower
New Settings for the Penske Suspension – Of course this will more than likely be adjusted during the rally to accommodate for current conditions.
New Michelin Pilot Sport PS2 tires- These seem to be a great tire and we look forward to racing on them throughout the rally.