Working closely with members at the popular forum cherokeesrt8.com, we developed a unique front headlight accent which covers a portion of the stock headlights, framing the circular nature of the Jeep Grand Cherokee headlight design.  These covers fit on 05-07 Grand Cherokee and 06-07 SRT-8 models.
These headlight covers are constructed of solid urethane, designed to be painted to match the exterior vehicle color, and snugly fitting with OEM quality.  For added security on installation, 3M tape comes pre-installed on the pieces, securing the accents to the vehicle's headlights.
Installation is extremely easy, with a simple removal of the push tabs on the grille and setting aside, installing the covers, finally replacing the grille and tabs.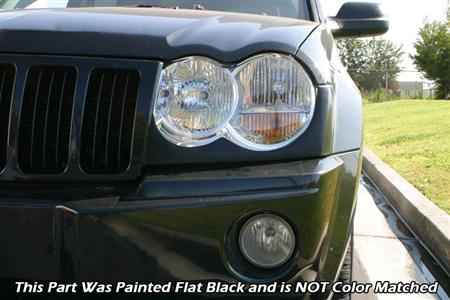 This is a very small, inexpensive, quick modification that has a surprisingly large effect on the styling of the Grand Cherokee, especially with the aggressive nature of the SRT-8 version.
2008 versions of the Grand Cherokee (including SRT-8) brought a change to the headlight housings, but we are almost finished with a new version to accommodate those vehicles.  Look for more information on that soon.
More information and pricing for the Jeep Grand Cherokee Headlight Accents can be found at the STILLEN Headlight Accents page on the main site.
Special thanks for making their vehicles available during the designing and modeling process needs to go out to Phil (Runnin 9s) and Tamara (SRT8Girl12).