Car & Driver released their testing results on several Nissan GT-R's they have had in their October 2008 article from their website.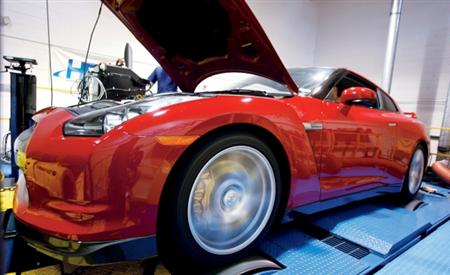 Excerpt from the online article:
On MotorCity Speed's Mustang dyno in Commerce Township, Michigan, GT-R No. 4 produced a peak of 415 horsepower at the wheels. Based on our 20-percent loss estimate, the engine output was 519, or 39 horsepower more than Nissan's stated 480.
They go on to state they felt this more accurately explains the testing results they've had against the Corvette Z06, where their test GT-R outran the Z06 in both 0-60 (3.3 vs. 3.4 seconds) and in the quarter mile (11.5 at 124 mph versus 11.8 at 125).
As a side note, it's been our experience that Mustang dynos generally show lower horsepower numbers compared to other dynamometer companies, such as Dynojet, Dynapak, etc.
Click these links for more information and to see the entire story:
Photo from Car & Driver, Jeffrey G. Russel via caranddriver.com