STILLEN Brake Pros is proud to introduce the STILLEN Front Big Brake Kit for the 2007-2008 Nissan Altima (Coupe or Sedan). This kit utilizes STILLEN / PBR 2-Piston Calipers, 13″ 1-Piece Cross Drilled & Slotted Rotors, high performance Mintex Xtreme brake pads, stainless steel brake lines, and all necessary brackets and hardware.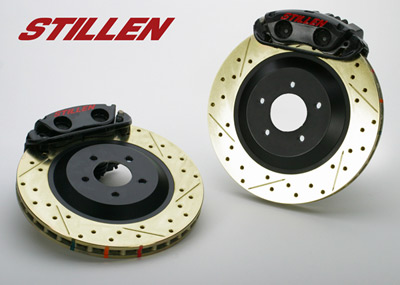 This kit will CLEAR THE STOCK OE 17″ 12-SPOKE WHEELS!
This kit is expected to start shipping the last week of September 2008.
This is a perfect upgrade for anyone looking for additional braking performance for spirited driving. The combination of a 2-Piston Caliper, dramatically improved Brake Pads, and Stainless Steel lines will ensure a firm pedal, zero brake fade, and improved stopping distances.
Upgrading to this kit from your stock 1-piston OEM calipers offers uniform clamping to the pads, increased clamping pressure, more leverage via the new caliper mounting point and the included larger rotors.
Mintex Xtreme Brake Pads are very high performance street pads that can handle temperatures from cold to over 1300°F, and are linear and predictable under all conditions. These pads have excellent grip, but retain important features like lower brake dust, moderate wear rates, and are much more rotor-friendly compared to other high performance compounds.
For those looking to take your Altima to the track, we also have the AP Racing 4-Piston Kit, both front and rear, which will stand up to as much abuse as possible both on the street and at the track.
30-8020 STILLEN Big Brake Kit Specifications
STILLEN / PBR 2-Piston Calipers (Black Caliper w/Red "STILLEN" script)
13″ (330mm x 28mm) 1-Piece Cross-Drilled & Slotted Rotors
High Performance Mintex Xtreme Brake Pads
Stainless Steel Braided Brake Lines (DOT Compliant)
All necessary brackets, hardware and instructions are included
Fits factory 12-spoke 17″ OEM wheels
Fits both 2007-2008 Altima Sedan and 2008 Altima Coupes
Matching Rear Cross-Drilled and Slotted Sport Rotors (NIS5301XS) are also available