Steve Millen and the STILLEN crew are very excited to once again be participating in the Dunlop Targa Rally held in New Zealand with the STILLEN Ford GT. This is an annual road rally held on 38 stages run over closed public roads, with a variety of vehicles, from classics to Porsche's, EVO's, STi's, Skyline's and everything in between.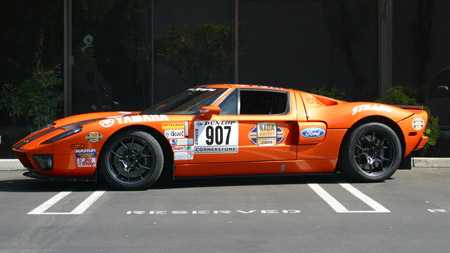 The competition stages are public roads which have been closed by the police and driven flat out. The goal is simple, the car that covers the distance in the shortest time wins.
EDIT: Here's some additional coverage, photos, and previous stories from our friends at Autoblog.com
Videos of the 2006 Targa Rally, including in-car are available at the STILLEN GT Project Vehicle page
Last year we were unable to make the event due to medical issues of one of the major team members but this year we are heading back and plan to be better than ever.
In 2006 we competed with our 2005 Ford GT Supercar. In just a few months we took the car from a bone stock black GT and built ourselves a bright orange race car, including development of a performance exhaust, cat delete pipes, chromoly roll cage, AP Racing Front Big Brakes, and installation of other top quality products like Penske Racing Shocks, MOMO Racing Seats and Restraints, and some aerodynamic and body protection urethane pieces.
This year we will be returning with the same car however it has been MAJORLY improved. In the past year and a half we have continued developing parts such as:
Increased Horsepower from the Supercharged 5.4L Motor
Additional Suspension Upgrades
Larger Front and Rear AP Racing Big Brake Kit
New and improved AP Racing Clutch
Lower Final Drive Ratio (3.90:1) – By Ricardo
Michelin Performance Tires
CNC-Machined Teflon Skid Pucks
Functional brake ducts, and more
Nordskog Gauges & GPS Speedo
With these improvements we hope to be a strong competitor in this year's rally. I will be returning this year as Team Navigator, riding with Steve and calling the turns, and will be posting daily updates from the hotel rooms. I invite you to follow along for this exciting event.
The team will be starting from Auckland on the North Island and over 6 days will travel south covering over 2,200 kilometers (1,350 miles).
Here are a few shots of the car prior to loading it into the shipping container headed for New Zealand!
Special thanks to the following sponsors:
Yamaha Motor New Zealand
MOMO USA
EDIT 9/15: Container is loaded and on it's way!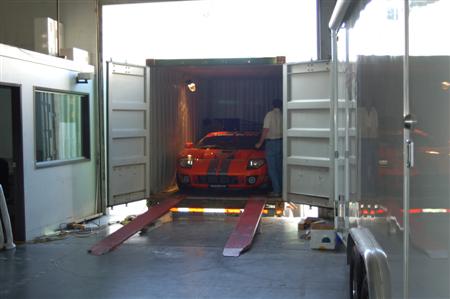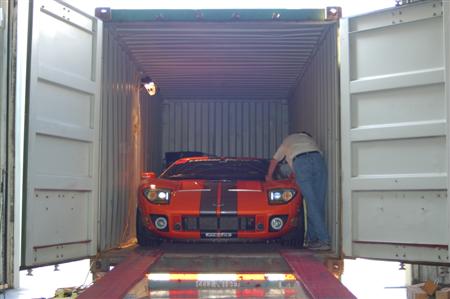 Update 10/27 – Here are the blog posts from this year's event:
2008 Dunlop Targa Rally New Zealand – Preparation  [Current Selection]