Every automotive enthusiast has their favorite stretch of road. Whether is a series of tight corners surrounded by trees and blind turns or a long straight road with no end in sight. The dreams is always the same. "Man, I wish I could run this road without the fear of oncoming traffic, police patrol, or any other hindrance." Well, for those thrill seekers looking for a great time, the Dunlop Targa Rally New Zealand is the perfect place to go.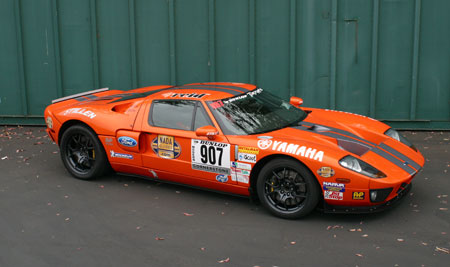 Each year New Zealand officials work closely with the organizers of the Targa Rally to close down 38 special roads. These roads will see everything from 1956 Ford Thunderbirds, to Subaru WRX rally cars and one very special Ford GT supercar. One of the great parts of the Dunlop Targa Rally New Zealand is the wide assortment of cars and people. Sometimes the cars are the incredibly extreme while the driver's are pretty subdued. In some cases the driver is the crazy one while the car is pretty "normal." In either case you can guarantee that the car will be driven to its max and the drivers and spectators will all have a great time!
Please join us on our 6 day trip around the Dunlop Targa Rally New Zealand. Starting from Auckland and finishing in Wellington we will be covering over 1200 miles in our specially prepared Ford GT. With help from the great companies that support our venture such as NADA Guides, Ford, Yamaha, Reid Construction, Michelin Tires, Total Oil, Streetfire.net, and many more we hope to bring home a great finish and even greater stories. Check back as I'll keep you up to date our our daily activities and results throughout the coming week.
Hope you enjoy!
Kyle Millen
Other Targa Posts:
2008 Dunlop Targa Rally New Zealand – Intro [Current Selection]
2008 Dunlop Targa Rally New Zealand – Prologue Day
2008 Dunlop Targa Rally New Zealand – Update Day 1(a)
2008 Dunlop Targa Rally New Zealand – Update Day 1(b)
2008 Dunlop Targa Rally New Zealand – Update Day 2
2008 Dunlop Targa Rally New Zealand – Update Day 3
2008 Dunlop Targa Rally New Zealand – Update Day 4