Well, there have been a lot of changes and shake ups today. In one of the stages 7 cars went off! It was a very tricky stage and caught a lot of people out. Many of them will come back tomorrow but some have ended their week a day early.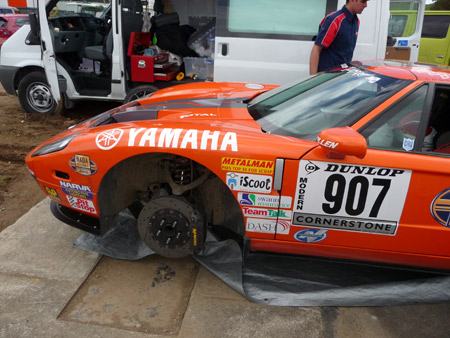 I have relinquished my navigator duties to Conrad Healey. He has been involved in every Targa rally that my Dad has competed in since 2001 and is a great guy. Unfortunately my nerves/stomach couldn't handle being a passenger on the rocket ship that is the NADA Guides Ford GT. It is truly incredible to ride in the car and the video's speak for themselves. I can't wait to get the cameras home so we can post them up for everyone to enjoy.
I made it through two stages in the morning but I just can't do anymore…Last year the car had good brakes, good power, and decent acceleration but it had NO grip. This year it has AMAZING brakes, AWESOME power, UNBELIEVABLE acceleration and FANTASTIC grip. The two year preparation that went into the car is fantastic for the driver but absolute hell for the person hanging on in the passenger seat.
Many of the leaders have been experiencing troubles today. Joe McAndrew in the R34 Skyline went off and lost two minutes today. Richard Mason (current New Zealand World Rally Champion) also experienced a few hurdles which set him back. Some of the Subaru's are starting to think they can fly, before realizing gravity always wins. A couple of the Porsche's have been seen trying to turn themselves into tractors as they make their way through the paddocks. All in all it's been a great day and the weather is still holding. However, tomorrow is expected to be rainy and cold…It wouldn't be Targa without rain.
Final update and wrap up to come tomorrow!!!
Kyle Millen
Other Targa Posts:
2008 Dunlop Targa Rally New Zealand – Update Day 4 [Current Selection]