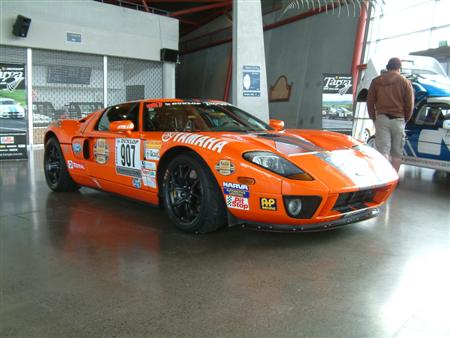 Well, today was the first day of the rally. Even though we weren't actually "racing" we were able to put the car through its paces a little bit. None of today's times or results will count towards the finish of the rally. It's really seen as a P.R. stage designed to please the spectators and cause some excitement. In that regard it was a complete success. I was in the car for the first pass through the stage. Then Dad's friend from the Ford New Zealand Motorsport division went for a ride.
One of the most fun things about prologue day is catching up with friends/competitors and getting to see all of the neat cars. Sometimes it's the second or third time we've seen the cars, however this year there are quite a lot of new teams competing. It is very exciting to see all the different cars. There are 2 Ferraris this year, three Porsche GT3 RS's. A LOT of Subarus and Evos. Even a new Nissan R35 GT-R. Of course it wouldn't be right to ignore the numerous R34 Skylines in the event also.
One of the most exciting bits of information that came out of today's events was the weather report…NO RAIN!!! For the past 3 days we've only seen moments of dry weather. But, we woke up this morning and there wasn't a cloud in the sky. However, there are mixed forecasts coming out of the news. Some news stations say that there won't be any rain, while others say we should be expecting some by Wednesday…All we can do is hope that it won't come. If it stays dry the NADA Guides Ford GT will be a hard car to beat.
Our internet connection is fairly spotty at this first hotel but I am trying to send out some pictures along with this post. Unfortunately I wasn't able to get any video today. I remembered to turn the camera on; I just forgot to press record…DOH!!! I'll do my best to get some footage tomorrow.
Well, it's time for me to get to my route books and begin studying them for tomorrow's stages.
Wish us luck!
Kyle Millen
Other Targa Posts:
2008 Dunlop Targa Rally New Zealand – Intro
2008 Dunlop Targa Rally New Zealand – Prologue Day [Current Selection]
2008 Dunlop Targa Rally New Zealand – Update Day 1(a)
2008 Dunlop Targa Rally New Zealand – Update Day 1(b)
2008 Dunlop Targa Rally New Zealand – Update Day 2
2008 Dunlop Targa Rally New Zealand – Update Day 3