On newsstands now! Modified Magazine's Project G35 receives a full AP Racing brake upgrade this month, and the improvements in performance are impressive.
After realizing that a pad/fluid change could not bring the factory brakes up to snuff, Modified Magazine decided to step up to the big leagues with our AP Racing G35 Front Big Brake Kit (AP3700) and our AP Racing G35 Rear Big Brake Kit (AP3750).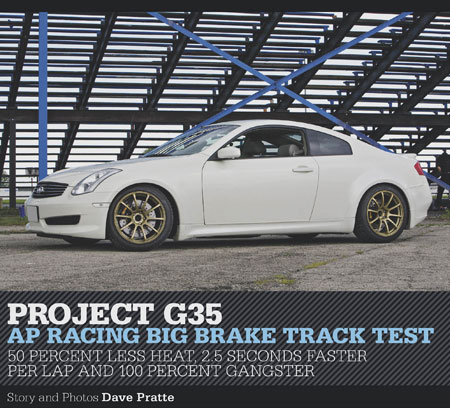 You can read the article here. Dave Pratte at Modified had this to say about our G35 AP Brakes:
The AP Racing brakes cut heat by almost 50 percent, but what these numbers don't tell you is that after two hot laps the OE brakes were starting to fade, and by the fourth lap I had virtually no braking power whatsoever because the pads and fluid were completely overwhelmed by the heat buildup. With the AP brakes, on the other hand, I didn't experience even a hint of brake fade after an extended lapping session where I abused the brakes as hard as I could.
The brake kits consist of the following:
AP3700 Front Big Brake Kit Specifications
AP Racing 6-Piston Calipers (Black or Red Calipers)
14.25″ x 1.25″ (362mm x 32mm) 2-Piece Cross-Drilled & Slotted Rotors (or Slotted Only)
High Performance Mintex Xtreme Brake Pads
Stainless Steel Braided Brake Lines (DOT Compliant)
All necessary brackets, hardware and instructions are included
Fits 2003-2007 Infiniti G35 Coupe
2003-2006 Infiniti G35 Sedan
2003-2007 Nissan 350Z
AP3750 Rear Big Brake Kit Specifications
AP Racing 4-Piston Calipers (Black or Red Calipers)
13″ x 1″ (362mm x 335mm) 2-Piece Cross-Drilled & Slotted Rotors (or Slotted Only)
High Performance Mintex Xtreme Brake Pads
Stainless Steel Braided Brake Lines (DOT Compliant)
All necessary brackets, hardware and instructions are included
Fits 2003-2007 Infiniti G35 Coupe
2003-2006 Infiniti G35 Sedan
2006-2008 Infiniti M35 and Infiniti M45
2008 Infiniti G37 Coupe
2003-2007 Nissan 350Z
2002-2008 Nissan Altima
2009 Nissan Maxima