Welcome back. We've been hard at work on our 2009 Nissan Maxima body parts and have some new photos to share.
Here's a look at the final pieces created in the modeling shop, before the molds are made. This is where the fine tuning comes in, this part of the process takes a designer with a keen eye for detail and a steady hand.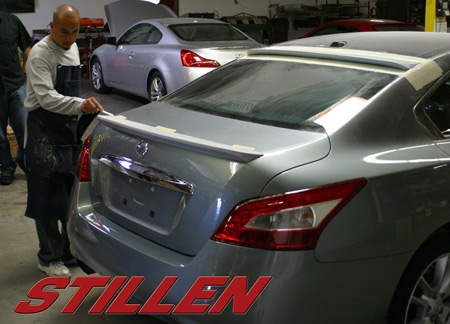 During this session some final changes and tweaks were made to the pieces.
The next step is creating the molds to make the parts. After that we'll have final fitment checks on first production pieces. Stay Tuned – next time we'll look at the 2009 Maxima performance part development and check in on some of our other projects.
Planned products coming for the 2009 Nissan Maxima:
STILLEN 2009 Nissan Maxima Urethane Body Kit:

2009 Maxima Lip Spoiler
2009 Maxima Grille – Urethane Surround w/Speed Grille Mesh
2009 Maxima Side Skirts (Rockers)
2009 Maxima Rear Wing (Spoiler)
2009 Maxima Roof Wing

STILLEN 2009 Maxima Intake Kit
STILLEN 2009 Maxima Grounding Kit
STILLEN 2009 Maxima Cat-Back Exhaust System
STILLEN 2009 Maxima Sway Bars
AP Racing 2009 Maxima Big Brake Kit
AP Racing 2009 Maxima Cross-Drilled / Slotted Rotors
Mintex Xtreme 2009 Maxima High Performance Brake Pads
Goodridge 2009 Maxima Stainless Steel Brake Lines
For those that missed the original 2009 Maxima update, it's available HERE
EDIT 10/30/08:  The Maxima is finished!  Click HERE for pictures/info!