We've been working so hard on the three vehicles we have going to SEMA (2009 Nissan Maxima, 2009 Infiniti G37 Coupe and 2008 Chevy Silverado.. more info to come on the other two builds soon), we've been a little laxed in our updates, and for that I apologize..
EDIT 11/08/08: View the STILLEN Maxima in the Nissan Booth at SEMA
So here's the final info on the 2009 Nissan Maxima build: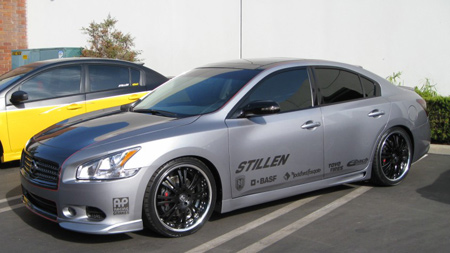 The Maxima has been completed, and is prepared for the transport leaving tomorrow to take this car into the Nissan booth at the 2008 SEMA Show in Las Vegas. For those of you attending, we hope you get a chance to stop in and see it.
Here is the gallery of images of the car just rolled out of the back of the warehouse, look for studio shots as soon as we can get it back from SEMA.
For the previous coverage of the Maxima, check out the other blog posts:
To confirm the products being put into production:
STILLEN 2009 Nissan Maxima Urethane Body Kit:
AP Racing 2009 Nissan Maxima Cross-Drilled / Slotted Rotors
Mintex Xtreme 2009 Nissan Maxima High Performance Brake Pads
Let us know what you think at info@stillen.com!