STILLEN is proud to introduce our VQ35 Oil Pan Upgrade. This extra capacity oil pan for the 350Z, G35 Coupe and G35 Sedan is a simple, effective way to ensure your VQ35 has an ample supply of oil.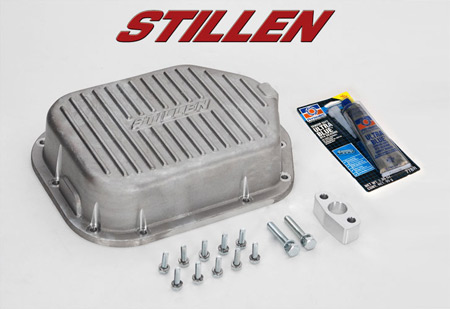 This complete VQ35 Oil Pan Upgrade Kit contains:
Extra Capacity VQ35 Oil Pan (350Z, G35 Sedan, G35 Coupe)
Oil Pickup Spacer (350Z, G35 Sedan, G35 Coupe)
Replacement Hardware
One Tube of Permatex Ultra Blue RTV
Detailed Installation Instructions
Here's the product text from the STILLEN website:
Oil supply and temperature are critical when putting your VQ35DE engine through its paces. If your oil pickup becomes uncovered or your temperatures rise too high, catastrophic engine failure is just around the corner.

STILLEN's Oil Pan Upgrade ensures that your Z or G has an ample supply of oil. This upgrade allows for an additional quart of oil. The extra capacity will allow your VQ to run cooler and more efficiently. Our design expands into the available space below the engine, while keeping the pan within the protective confines of the chassis.

STILLEN's aluminum pan has cooling fins cast into it allowing heat to dissipate more effectively. An extension is provided for the oil pump pickup and new hardware is provided to attach everything to the engine. This simple, effective upgrade can be completed with normal hand tools. Complete instructions are provided.

Combine the STILLEN Oil Pan Upgrade with our STILLEN Oil Cooler for the 350Z and G35, and you now have a state of the art complete cooling solution for your oil system that keeps your VQ35DE's oil temp under control.

Not for dual throttle body motors.
The 350Z, G35 Sedan and G35 Coupe Oil Pan Upgrade Kit is currently a featured product on RiceBoyTV.com
This 350Z, G35 Sedan and G35 Coupe Oil Pan Upgrade Kit will NOT fit dual throttle body vehicles.