Well, the rally is over and I'm exhausted…It has been a VERY long week. We are extremely excited with how the week went. The car performed relatively flawlessly. If it weren't for the rear suspension issues the only service performed to the car would have been fuel, brake pads, oil change, a new set of spark plugs, and two new rear tires. Even then the only reason we put the tires on was because of the rain.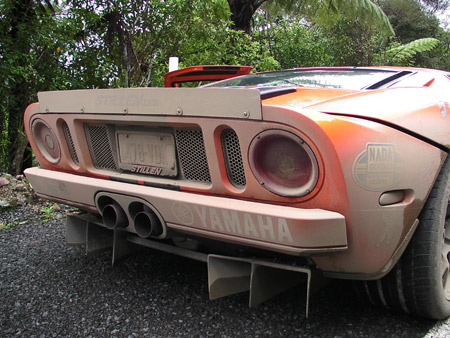 Otherwise we could have left the Michelins on for the entire week and they would have been fine. They are an incredible tire.
We are proud to announce that we won many awards. Even though I had to hand over my seat as co-driver I was able to complete over 50% of the stages before getting out of the car. Which earned Dad and I the first father and son team. We also won first V8, and first Ford. Dad is pretty sure that we came in first in our class and we know that we came 8th overall.
If a few little things hadn't happened we are confident that we would have had a top 5 finish. But, that's racing and you just have to roll with it. At the end of the week we are very proud of our results and our entire team's performance.
I am really tired so I'm going to keep this entry short but I will be writing a complete wrap-up of the week's events soon.
Thanks!
Kyle
Other Targa Posts:
2008 Dunlop Targa Rally New Zealand – Update Day 5 (Results) [Current Selection]