No, you didn't read the title incorrectly… this is a unique opportunity… the ability to own the STILLEN 350Z Magazine Cover and Show Car!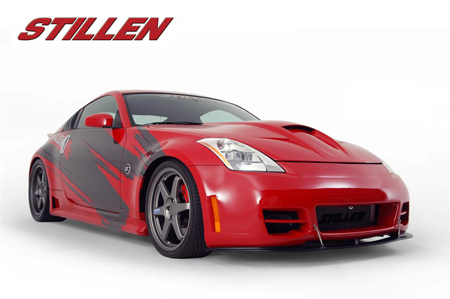 UPDATE 3/16: Relisted on eBay – Original sale didn't go through: eBay Auction
2004 Nissan 350Z 6MT
STILLEN built this 350Z as a showcase for all of the parts we manufacture. It has been featured in numerous media outlets, including several magazine covers, TV shows, online features, etc.

DSport September 2006
Click Here to Read
NOPI Street Performance Compact – December 2005
Click Here to Read
Here is the spec sheet and modifications list:
385HP in the Stage 2 CARB Legal configuration, and can easily be upgraded to Stage 3 non-CARB legal configuration bringing horsepower to 410.
This 350Z has just under 6,900 miles, and has always been warehoused indoors. Vehicle is only used for shows and special engagements.
$30,380 is the value of the parts, labor, paint and graphics installed onto this 350Z, in addition to the original cost of just over $40,000 with tax and license. Total investment of over $70,000!
This car is ready for the track, without compromising the ride quality for use as a daily driver. It has an excellent balance of performance, handling and styling, and features virtually everything STILLEN has available for the 350Z.
Modifications List:
ENGINE
• STILLEN Stage 2 – Intercooled Supercharger (CARB EXEMPT)
• STILLEN Hi-Flow CAI Airbox
• STILLEN Center Exit Cat-Back Exhaust System
• STILLEN Performance Aluminum Radiator
• STILLEN Power Steering Cooler
• STILLEN Oil Cooler
• STILLEN Grounding Kit – Red
• STILLEN Engine Oil Cap
SUSPENSION
• STILLEN Adjustable Front & Rear Sway Bars
• STILLEN Front Strut Tower Brace
• STILLEN Rear Camber Adjusters
• STILLEN Rear Adjustable Toe Arms
• Koni Sport Shocks (Yellows) – Adjustable Front/Rear
• Eibach Pro-Kit Springs
EXTERIOR
• STILLEN Series 2 Hood
• STILLEN Urethane Front Fascia – Series 2
• STILLEN Urethane Side Rockers – Series 3
• STILLEN Urethane Center Exit Rear Valance- discontinued
• STILLEN Type 1 Urethane Rear Wing
• STILLEN Adjustable Splitter for Series 2 Fascia
• STILLEN Brake Ducts – for Series 2 Fascia
• STILLEN Urethane Roof Wing
• STILLEN Vinyl Exterior Graphics (easily removable)
BRAKES
• AP Racing Front 6-Piston / 14.25″ 2pc. Rotor Brake Kit – Red- discontinued
• AP Racing Rear 4-Piston / 2pc. Rotor Brake Kit – Red- discontinued
WHEELS & TIRES
• Front – Volk Racing TE37 Gunmetal 19×8.5″ (29mm offset)
• Rear – Volk Racing TE37 Gunmetal 19×9.5″ (34mm offset)
• Yokohama AVS Sport
– 245/35ZR19 Front
– 295/35ZR19 Rear