STILLEN is proud to release something we've been developing and fine-tuning for quite some time, our Secondary Cat Delete Y-Pipe for the Nissan GT-R!
The factory equipment this replaces contains two flow-robbing cats and weighs in at a hefty 30.25 lbs!  Our new Y-pipe replaces those cats with polished 304 stainless steel resonators and drops an astounding 47% of that weight, coming in right at 16 lbs.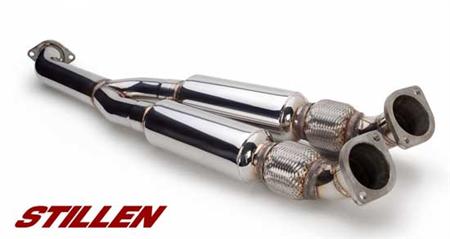 There is a lot of power held back by the factory exhaust system on the Nissan GT-R. By eliminating the factory catalytic converters, STILLEN has successfully improved flow, creating power gains as well as dramatically improving sound.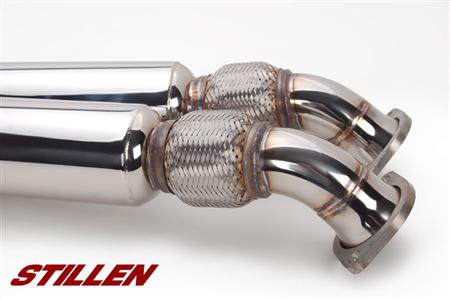 Additional info from the STILLEN Product Page:
Catalytic converters are not only very restrictive to the exhaust flow and performance, but they also act as mufflers, greatly reducing the sound that enthusiasts desire.


This Secondary Cat-Delete Y-Pipe System is TIG welded and constructed out of polished 304 stainless steel with laser-cut and CNC machined 304 stainless steel flanges.  The resonators themselves are also TIG welded, polished 304 stainless steel.


To allow the exhaust system to flex with the movement of the engine, yet stand up to the heat and flames coming off of the turbos, we have used nothing but the best turbo specific flex joints on this application.  Under hard driving, flames will travel through the exhaust system, and only turbo specific flex joints will stand up to the heat generated in those circumstances.
These parts are currently in production, and will begin shipping soon.  Make sure to get your order in now before the first batch sells out!
Features:
• Lightweight Materials – 47% Lighter than factory
• Increased Performance
• Race-Car Like Sound
• Polished 304 Stainless Steel – Lifetime Warranty
Recommended items to go with this product:
• STILLEN GT-R Cat-Back Exhaust System