We posted earlier that MOTORZ TV was doing a brake upgrade install using STILLEN Brake Pros components, and the episode has been released!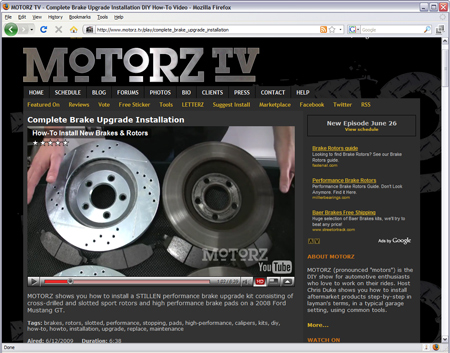 Take a peek as they go through the steps of upgrading a 2008 Ford Mustang GT with STILLEN Sport Rotors and STILLEN High Performance Metal Matrix Brake Pads.
MOTORZ TV is produced with the DIY enthusiast in mind, and features installs typically done in a home garage situation.  As you'll see with this episode, doing this type of brake upgrade is easily achievable in your garage on the weekend.  For future episodes of MOTORZ, be sure you subscribe!

Upgrading to cross-drilled or slotted high performance rotors, and stepping up to a performance brake pad compound can make a profound improvement on factory brake systems.  The cool part, most of the time these upgrades are less expensive then getting the parts from your local dealership.
For more information on these STILLEN products, view the product pages here: