Our friends at MOTORZ TV approached us when looking at brake upgrades for their 2008 Mustang GT, and we were excited to get a chance to put some parts in their hands and get their feedback.
MOTORZ is a TV show framed around the DIY auto enthusiast who loves to get his/her hands dirty, and provides a step-by-step install on products, just like it's done in a typical garage or driveway setup.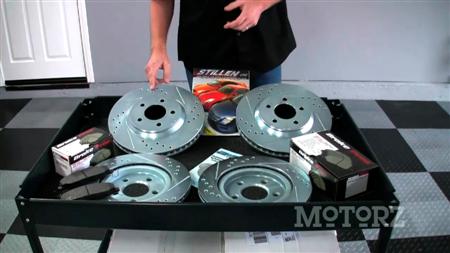 As they received the product, Chris Duke (the producer and on-screen personality) immediately ripped open the boxes to check out the STILLEN Sport Rotors and Metal Matrix High Performance Brake Pads and give them a once over.
The response I received back from Chris upon getting a chance to get the boxes open:
Not only do the STILLEN sport rotors look super cool and performance minded due to the cross-drilled holes, they are clearly machined with quality and care in mind.  We can't wait to install them on our project vehicle and really put them to the test! – Chris Duke, MOTORZ
Chris took some time to shoot a 'PARTZ' segment highlighting some of the features of the rotors, which we have embedded below.

Later this month, check back as they are doing a full install episode of these Sport Rotors and Metal Matrix Pads onto the Mustang, in full MOTORZ.tv style.
They have a YouTube channel, as well as being carried on numerous video media channels, specifically iTunes and more recently expanding into cable TV in certain areas.
We encourage you to check it out, and subscribe to not miss the upcoming STILLEN install: