Continuing product development on the new Nissan GT-R, STILLEN has produced an upgraded adjustable front and rear sway bar set for the R35 chassis.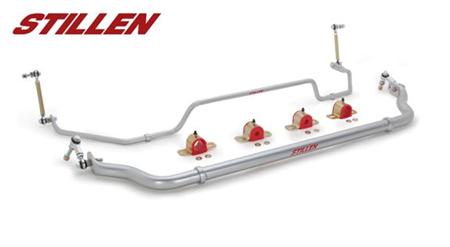 An upgraded sway bar really helps the GT-R keep flat through the corners, and the adjustability in both the front and rear bars allows the driver to fine-tune the suspension to suit driving needs at will.
These sway bars are constructed of DOM Steel, and come complete with poly-urethane bushings, and all hardware to bolt right on.  Also included with this kit is an extremely durable set of adjustable endlinks, well suited for vehicles utilizing coil overs.

These kits are shipping immediately…
Product text from the main STILLEN website:
These upgraded sway bars have quickly become one of the most popular STILLEN products for the Nissan GT-R. By increasing the stiffness of the bar and offering multiple different mounting configurations, STILLEN has been able to come up with a 5-way adjustable sway bar with settings that any driver from street to the track will appreciate.
A precision driver pushing the car to the limits will find that the multiple levels of adjustment will allow them to fine tune and truly dial in the handling of their Nissan GT-R. For softer, daily driving the driver can set the sway bars in the #1 position, which offers minimal resistance but is still a little stiffer than stock.
For the driver looking to take their car to the limit they can go full stiff and set the bar to the #3 position front, #5 position rear. This is a huge jump over factory and really plants the car through the turns. The included adjustable end links allow this sway bar setup to be used on vehicles equipped with factory shocks or vehicles equipped with aggressive lowering kits or coil over setups. By lengthening the adjustable sway bar end link there is plenty of clearance for even the most aggressive ride height.
Features:
• 3-Way Adjustable Front Bar – 20-38% Stiffer
• 5-Way Adjustable Rear Bar – 67-108% Stiffer
• Adjustable Sway-Bar End Links
• Poly-Urethane Bushings
• DOM Steel Construction – High Tensile Strength
• Silver Powder Coated Finish – Maintains Appearance and Protects Against Rust