Well, the STILLEN GT-R has made it across the country, and is currently settled in Maine, awaiting Steve Millen's arrival to drive it the rest of the way into Newfoundland for the Targa Rally.  The FedEx Transporter delivered as promised, and everything arrived safe and sound, and ready for action.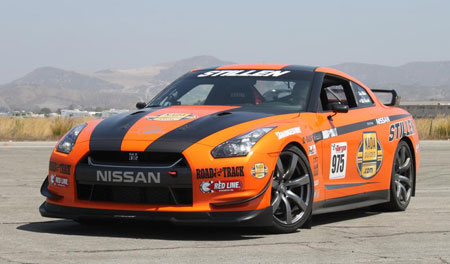 We thought this would be a perfect time to introduce you to the STILLEN GT-R as it exists prepped for the Targa Newfoundland, with the full rally preparation finished.  We also played with some of the testing footage, and as you'll see below, this transformed GT-R is something to see.
After months of tearing down, shaving weight, developing new products, building and testing the GT-R, Steve Millen deemed it worthy and on the transporter it went. The Targa Rally introduces some very unqiue requirements of a car, it's not the normal smooth racetrack most race cars are set up for.  The Targa events are extremely demanding, covering city roads, vast landscapes, and varying road conditions (imagine the roads in your town).  Pot holes, dips, asphalt issues, gravel, sand, water, mud.. all common throughout the course.
All of these obstacles require a very balanced car, capable of dealing with anything, and a driver experienced enough to push it beyond its limits.  Meet the STILLEN R35 Nissan GT-R as prepped for the 2009 Targa Newfoundland Rally:
STILLEN GT-R Targa Race Car
Performance Numbers (As Set Up For 2009 Targa Rally)
Horsepower: ~620 @ 15psi (91 Octane Pump Gas)
0-60mph: 2.9 seconds **
1/4 Mile: 11.0 seconds at 127.9mph **
0-130mph: 11.4 seconds **
Lateral Grip: 1.1G+ **
** (as tested by Road & Track)
STILLEN GT-R Performance Parts
STILLEN Downpipes
STILLEN Race Exhaust w/Center Rear Exit
STILLEN Intake System w/K&N Filters
Turbosmart e-Boost Street 2-Stage Electronic Boost Controller
Turbosmart Dual Port Blow Off Valves
Dodson Motorsports Transmission Cooler
Red Line High Performance Synthetic Motor Oil – 0W40
Red Line High Performance Synthetic Gear Oil – 75W140
Red Line WaterWetter
STILLEN GT-R Suspension Parts
Penske/STILLEN High Performance Coil-Overs – Adjustable Bump & Rebound, Ride Height
STILLEN GT-R Brakes / Tires
STILLEN Brake Cooling Package
STILLEN Stainless Steel Brake Lines
AP Racing PRF High Performance Brake Fluid
Bridgestone RE070R 255/40ZRF20 Front Tires
Bridgestone RE070R 285/35ZRF20 Rear Tires
STILLEN GT-R Interior Parts
STILLEN Designed & Built Custom Chromoly Roll Cage
STILLEN Designed & Built Custom Seat Frames
Status Racing Seats
Status Racing Harnesses
Monit Rally Computers
ChaseCam On-Board Video Camera System
STILLEN GT-R Exterior Parts
Password:JDM Dry Carbon Fiber Custom Race Hood
Password:JDM Dry Carbon Fiber Trunk Lid
Password:JDM Dry Carbon Fiber Wing
Password:JDM Dry Carbon Fiber Engine Cover
Password:JDM Dry Carbon Fiber Radiator Shroud
Password:JDM Dry Carbon Fiber NACA Ducts
Password:JDM AeroCatch Flush Mounting Plates
APR Carbon Fiber Side Mirrors
Additional Photos:
See All of the 2009 Targa Newfoundland Coverage: