Well, it's Thursday night and we have some great news!  We're in the hotel room at 9pm!  The new CV boot swap the guys made last night worked perfectly today and the car ran flawlessly.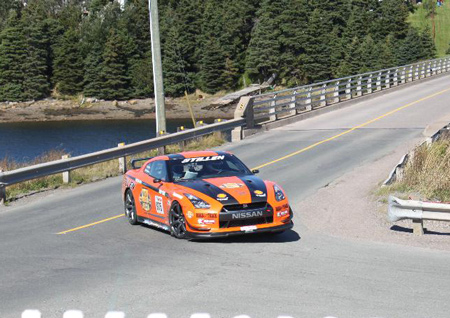 We were back on the road a few hours after getting back to the hotel but it was worth the effort.  The crew have been absolutely amazing this week and they are doing an incredible job!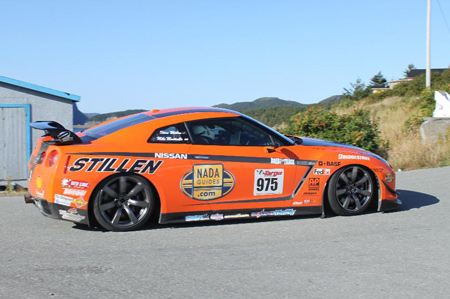 There have been a few mix-ups today and the scoring situation is a bit odd.  We're currently being shown in 5th overall and the first modern but it says that we have more than a 20 second time penalty.  So, we're going to look into that and see what that's all about.
Today went very well.  The car ran great and Steve and Mike were able to meet nearly all of their goal times.  We're still a bit confused about the goal times as we are consistently the fastest car on the road yet we're 'losing' to cars who have goal times 30+ seconds slower than ours.  But, I guess that's the unique rules of this event and we're just trying to live with it.  It is very frustrating though.
So last night I mentioned that there are some very interesting stories here.  Story one:  The red Porsche 911 that was here on day one broke on day one.  The owner of the car is also the owner of the Halifax Porsche dealer.  He called his wife and told her to bring out the Boxster.  Well, she was able to make the last ferry over and arrived in time for the guy's to carry on in the GT touring class.
Story two:  The Audi (not the rally spec. Audi) from day one wrecked hard on day 2 in the early stage.  The co-driver broke his arm and we all thought their week was over.  Well, morning the following day came and they arrived in a rental (red Dodge) car that they picked up and have re-entered the rally in the GT Touring class as well! Can't stop these guys from racing!
The white Subaru that rolled a couple of days ago had a "yard sale" sign out front of it the other day.  The driver and co-driver are already talking about coming back next year.
I am going to try to download a video tonight and email it off but I'm not sure how it's going to work.  Hope it turns out well, worst case scenario, I will be back in the office on Monday and we will have the videos up shortly thereafter!
[EDIT: Videos didn't work, the source files were very large, but below is some video that Road & Track have put together for both Leg 3 and Leg 4!]
Road & Track Video: Wednesday Leg 3
Road & Track Video: Thursday Leg 4
See All of the 2009 Targa Newfoundland Coverage: