Well, we have mostly good news and some bad news. Good news is we are getting some awesome video footage and I can't wait to bring it home.  Steve has been doing a great job operating our in-car video system so we should be able to get some great footage.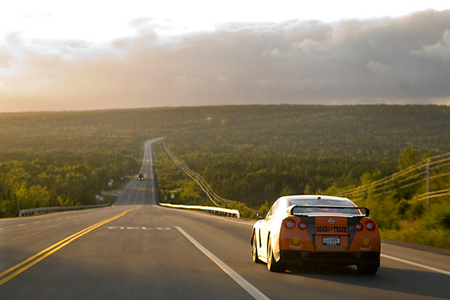 Photo courtesy of Marc Urbano – Road & Track
The guys from Road & Track and I spent the day getting deep into some of the stages and getting video footage as well as photos.  I will send some of the photos tonight but the video footage will have to wait until I get home.  For those of you who know me, I'm not the best when it comes to modern technology.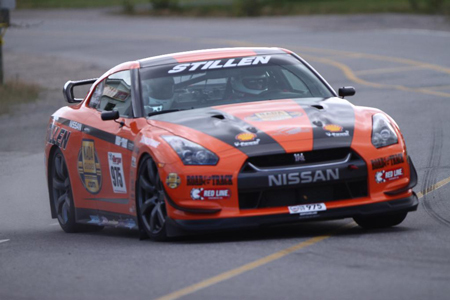 More good news!  Steve and Mike are doing great!  Steve has reported that he is feeling comfortable with Mike and the calls he is making which means they can push hard!  They came roaring through Stage 2 with some very impressive times and so far have no penalties.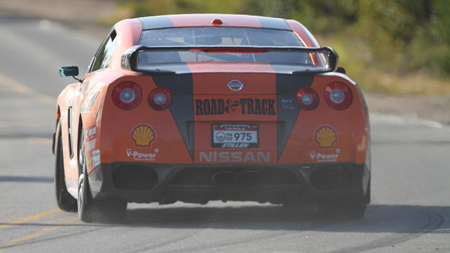 My earlier blog post which explained the scoring system used here in Newfoundland left out one key part.  I forgot to mention that it doesn't matter how fast you go through the stage (without exceeding the 135 KPH average speed limit) as long as you  arrive under the "goal time."  Then you basically score a 0 (zero). Points or penalties are added to your score if you take longer to complete the stage than your goal time allows.  The good news, Steve and Mike have said that they are well under the goal time for each stage so far. [EDIT: Confirmed from Targa Newfoundland Results – Tied for 1st with other competitors running a perfect day with no time penalties: Targa Newfoundland Results] This is a good sign for the week and we're hoping they keep up the great work!
Even more good news! Team Subaru is back. After a pretty hard accident during the first lap of the two lap prologue stage they have rebuilt the car and they're ready to finish out the week. Good luck guys! We'll have a beer ready for you on Friday night at the Keg!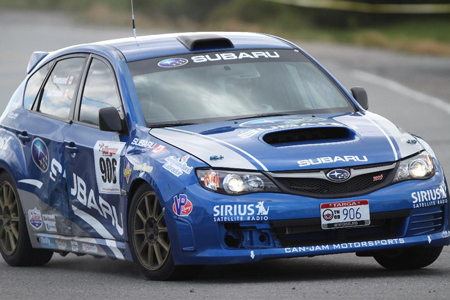 Here's a video courtesy of Road & Track featuring Mike Monticello and Steve Millen talking about the day, and some footage of the car in action. Be sure to head to Road & Track for all of the ongoing footage.
Now for the not so good news.  When we were working on the car yesterday we found a small, pin-hole sized leak in the driver's side CV boot.  What does that mean?  Well, that means that the grease has been slowly coming out.  To remedy the problem Mark Ungles (our long-time Targa rally technician) and Joe Nagy (Senior Technician for Nissan North America based at Nissan's "proving grounds.")  needed to be resourceful.  They had to apply some RTV silicone around the boot in hopes it would hold.  More good news!  IT'S WORKED SO FAR!  We have been working very hard to get some new boots in today and more good news!  They came in!  So the guys stripped apart the front end and started to prepare for the swap.  Now the bad news, the boot we received is the wrong one!  Fortunately they didn't want to take any risks so when they took apart the original boot they were very careful.  They have cleaned everything up and tried again with the RTV in hopes that it can get us through until we can get another new boot which is looking like Wednesday night.
The plugged boot got Steve and Mike through the day today, let's hope it holds up tomorrow and Wednesday.
I took a lot of photos today while I was traveling with the Road & Track guys and I hope you enjoy them.  By the way, while we were traveling we were able to get into some of the stages early and run through them a little bit before they closed the roads in hopes of finding some good viewing areas.  We were able to get through Stage 2, which is the hardest stage of the day, and I must say… the rally organizers and competitors are NUTS!!!  I was driving the Nissan Murano at safe, city speeds and I could not believe the roads we were going through!  You have to see the in car video footage, these stages are seriously intense!
Well, I'm off for the night.  It's a little after 12am and the boys are still working on the car.  I'm down here with them but more for morale support, food and parts runner than actually working on the car.
Hope you enjoy the updates, I'm trying to update our Twitter account as much as possible but cell service is pretty spotty up here so there are no guarantees!
See All of the 2009 Targa Newfoundland Coverage: