Day 2 of the 2009 Targa Rally featured a two stage prologue, which the GT-R was able to run one of the stages, and things look really good.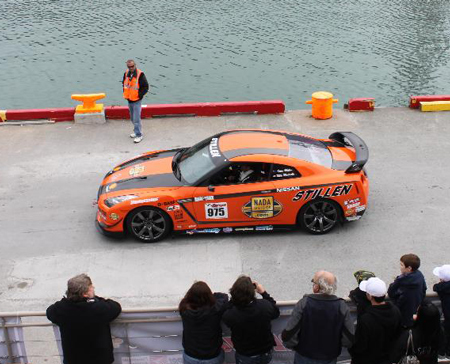 2:05pm NDT (9:35am PST)
Standing in a field in Newfoundland with the STILLEN Sweepstakes winner Seth and his cousin Glenn. A Suburu went off bad in a Prologue Stage.
Here's Seth and Glenn later on in the day with the STILLEN GT-R: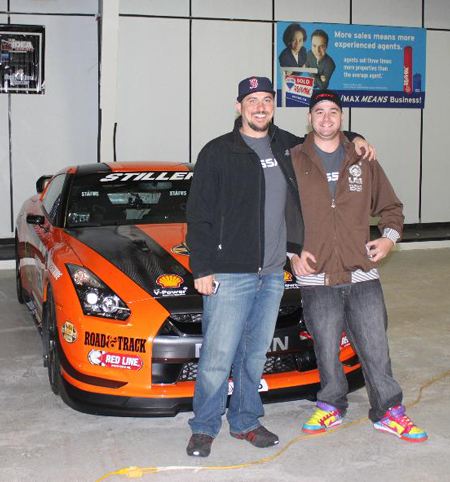 3:02pm NDT (10:32am PST)
Steve and Mike just crossed the line after Stage 2 of the Prologue.. all went well.
4:10pm NDT (11:40am PST)
Well the first day has gone very well.  Today was just prologue which had the official release at "the keg", the local popular steakhouse on the wharf.  All of the cars were sent to Flatrock where they ran the Prologue Stages 1 and 2.  Unfortunately the Subaru of North America rally car had a big off and rolled.  Time will tell if we see them back this week.
There are some pretty awesome cars out here.  Everything from old Novas and Camaros to Mini Coopers and Porsches.  The people here are extremely friendly and very nice.  Everyone is very excited about the GT-R and were getting a lot of good reactions.
Today I spent the day with the Road and Track guys and tomorrow I'll be with them again.  I have gotten some pretty cool footage so far and I hope to get more soon.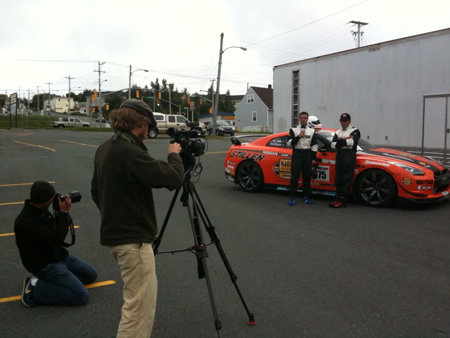 Because today didn't count the guys were taking it pretty easy.  But Steve has reported that the GT-R reached 196 kph pretty easily.  This should be a fun week!!!
Pictures from throughout the day:
See All of the 2009 Targa Newfoundland Coverage: