Well today was eventful.  There were eight stages in total, one of which was canceled due to a problem with crowd control (good call by the organizers!).  We were able to get some great video footage of the car coming through two stages as well as photography through Stage 8.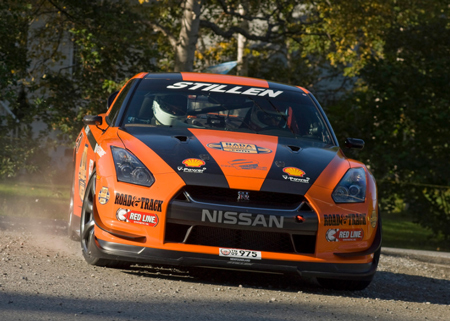 Photo courtesy Warwick Patterson / Formulaphoto.com
Stage 8 is insane!  This stage takes place in the middle of a housing district.  Imagine the largest neighborhood in your area.  Now block of the roads and run a train of rally cars through it.  It was incredible.  Mike and Steve did a great job through here and really hustled hard.  Unfortunately they caught the Subaru early in the stage and weren't able to get by because the roads were so tight.
Catching the Subaru and the subsequent delay by not being able to get by meant that the guys missed the goal time by 6 seconds.  Which means we incurred a 6 second penalty.  Kind of bogus really considering they were by far the fastest car through the stage and even beat the unlimited cars.  But, that's the way their scoring/timing works here so Mike and Steve will just have to push hard the rest of the week and hope some other competitors make some mistakes.  I'm hoping to have further explanation of the timing tomorrow night when I can borrow one of Mike Monticello's route books which clearly list the goal time of each stage for each type of vehicle.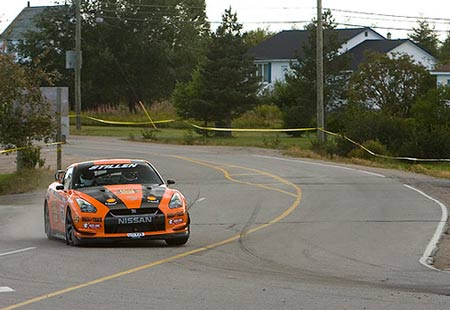 Photo courtesy Marc Urbano / Road & Track
There were a couple of notables on the day.  First off, one of the Subaru's from the UK had a pretty eventful day.  They had a pretty big off and rolled the car a couple of times before going end over end.  The Driver and Co-Driver are fine and the only injury was a broken wrist.  Steve told us at dinner that the Co-Driver was a great guy and he'd like to send his best wishes for a speedy recovery!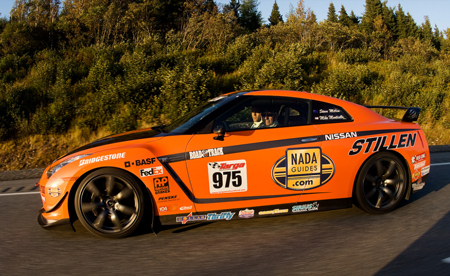 Photo courtesy Warwick Patterson / Formulaphoto.com
The car is doing very well.  Mark and Joe did a great job last night and their patch/seal/fix has held up.  We were hoping to get the new CV boot tonight but it won't be arriving until tomorrow.  Their repair work last night worked extremely well and there was not a drop of axle grease lost all day.  They were able to catch the last part of Stage 8 and got a great video of the STILLEN GT-R chasing the Subaru across the finish line with glowing red rotors and flames shooting out of the exhaust.  These guy's worked extremely hard last night and did an amazing job.  They were awake again early this morning with only a few hours of sleep and worked hard all day servicing and preparing the car.
I focused on video today so I wasn't able to get a lot of photographs but I hope you like the ones that I was able to get.  As soon as we return home we will get the video process rolling and start putting some of the films up there.  The guys from Road & Track have been able to get some videos up and they look great.  I wish I had their knowledge when it came to this stuff.  EDIT: Road & Track just sent the link to today's video: Targa Racing Day 2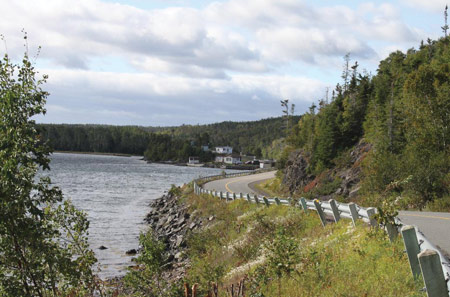 I would like to really quickly say that I have never had the desire to come to Canada.  No good reason really, just never had the urge.  Maybe it's because it's just another part of North America, maybe because it's not some exotic foreign country, I really don't know.  But, my opinion has now changed.  This country (well, the island I'm seeing) is amazing.  Beautiful country side and amazing views.  It is a pleasure being here and we are all having a great time.  The people of this country are fantastic.  Extremely friendly and hospitable.  They always seem to be smiling and offering a helping hand.
Last night we were told that the overnight parking garage would be closing at midnight.  We weren't bothered at all the entire time and around 1:15 a.m. a very kind gentleman came by and introduced himself as the guard for the night.  He said that he saw a few teams struggling to make the midnight cut off so he had just gone for a walk and let us all work.  He just wanted to come by and have a chat about the car.  We saw him here again this evening and he was just as friendly and happy to see that the car had made it through the day's events.
Here are some more photos from today:
Please Note: The reason I am including the pictures of the wrecked Subaru is not for jokes or for the horror factor.  I am doing it to prove a point.  Motorsports are dangerous.  There are risks involved.  But this car was properly prepared.  The roll cage, without question saved their lives.  I inspected the damage afterward and the body was crumpled in around the cage but the cage did not move at all.  Also, the only injury in this huge wreck was simply a broken wrist.  That's nothing in the grand scheme of things.
See All of the 2009 Targa Newfoundland Coverage: