Well, we have officially made it through the first half of the week.  As expected the GT-R is running very well and if it weren't for the worries about the CV boots, the only service we would be performing to the car would be filling it up with fuel.  This car is truly incredible.  Steve is having an absolute blast and after each stage has a huge grin on his face.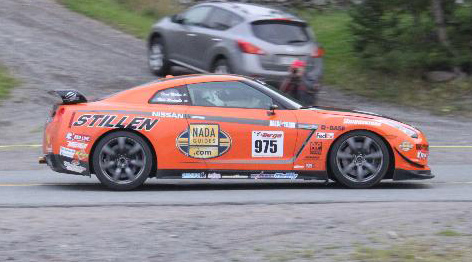 Mark and Joe are really doing a great job and working hard.  They had a bit of a problem today when the service van started filling with the fumes from the fuel and was messing with their heads a little.  We have taped off the back half of the van with clear drop cloths and a lot of duct tape so it should be well sealed from here on out.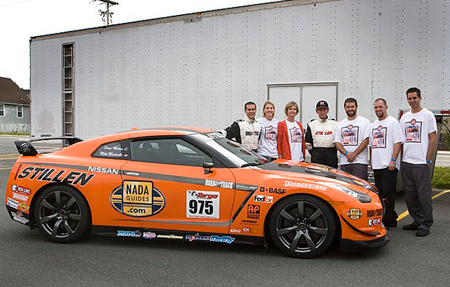 Mike, Julie, Jodi, Steve, Kyle, Joe and Mark – Team STILLEN / Road & Track
Photo courtesy Marc Urbano / Road & Track
Now for the updates.  The original CV boot which has been patched and massaged a couple of times has held up well.  Fortunately we received the correct replacement this evening and the boys worked late to put it on.  It's past 1am as I write this and I'm still down at the center with them as they finish up.  We have all decided that when we get home we will be getting that CV boot bronzed and building a mahogany display case for it.  We can't believe it held up to four days (three rally days and the proglogue.)  We're all going to sleep a little easier tonight knowing the new boot is on there.
Today went very well, as you might already know we took a six second penalty today.  Steve and Mike were doing so well in the first two stages that they had to slow way down towards the end of the stage so they did not exceed their 135 KPH stage average.  Because of this they took Stage 3 a little easier and unfortunately a little too easy.  They ended up doing really well the rest of the day and cleaned every other stage.  No worries, Mike and Steve have agreed that from here on out they just go flat out and see what their time is like at the end of the stage and slow down if they need to.  I'm actually curious to know how they estimate the times for these stages based on the class.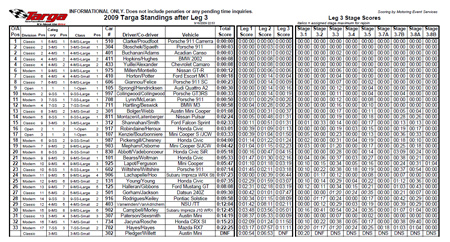 One thing that we are extremely proud of is the fact that we are one of the few if not the only top ten team who is driving everywhere.  A lot of the teams are packing up every night on trailers and towing to the final parking area.  You might remember that our car drove from Bangor, Maine to St. John's Newfoundland and when the rally is over Steve and Jodi Millen will drive the car back to Bangor, Maine.  This thing is a driver!!!
There are a few interesting stories about some teams who are really persevering and show true Targa spirit, continuing on in rental cars or helping out other teams after their cars crash out or break down.  Unfortunately it's a bit late tonight and I'm really tired so I'll have to share those stories tomorrow.  Plus, Mark is telling me they need a hand.
Hope you enjoy today's pictures I was able to get:
See All of the 2009 Targa Newfoundland Coverage: