STILLEN is proud to announce we are nearing completion for the Nissan 370Z / Infiniti G37 Supercharger System. As we approach production, we will be updating the progress as frequently as possible on our blog. We'll start with the concept, and some insight into the development process.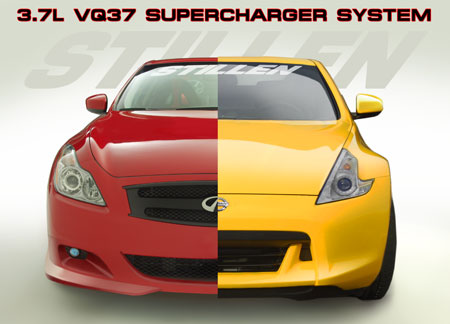 This 3.7L supercharger development began in late 2008 and moved steadily through 2009.  We had a bit of a delay in the development while the STILLEN R35 GT-R was prepared for Targa Newfoundland, but after that car was completed it was back to business on the supercharger!  We have just started the new year in 2010 and we are excited to say the supercharger is nearly finished!  Here is a re-cap on our development and some of the engineering that went into making this kit come to life!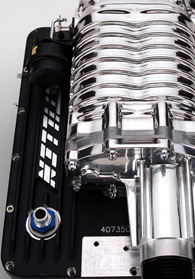 When the 350Z came out in 2003, Steve Millen and our engineers sat down to discuss the main goals for the STILLEN forced induction solution.  The consensus was clear; the STILLEN VQ35 Supercharger System had to be CARB legal and had to offer a 3 year/36,000 mile engine warranty.  It had to be a turn key, ready to run kit and offer great power gains.  To meet those demands Steve and the STILLEN engineers decided on the Eaton MP62 blower.  It met all of the requirements and worked perfectly!  That kit was a complete success and was the first supercharger on the market to achieve CARB legality and offer an engine warranty, with gains of approximately 100 horsepower at the wheels.
When the new VQ37 engines came out Steve again sat down with the engineers to discuss what was the best method of forced induction for the 370Z and G37.  Although the VQ35 roots supercharger was a complete success, we did learn a lot about what our customers wanted and what they would have preferred.  We learned that some people do not want to change their hoods to accommodate the clearance for the supercharger.  We also learned that even though some people want a CARB legal, warrantied kit TODAY, in a year or two they might want to upgrade the system to get even more power.  Unfortunately the MP62 blower used on the VQ35 kit does not have the peak horsepower potential of some of the other forms of forced induction.  It offers great bottom end but can get a bit choked off at high RPM when running higher levels of boost.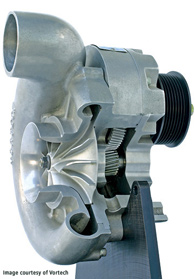 With these points in mind the ultimate decision was made to go with the Vortech Centrifugal Supercharger.  The Vortech unit offers higher peak horsepower potentials and enables fitment under the hood for a clean installation.  STILLEN has partnered with Vortech in the past to develop supercharger systems for other cars such as the Mercedes CLK430 and other Nissan vehicles like the Maxima and Xterra.
The STILLEN VQ37 Supercharger System will have 3 Stages:
Tuner Kit – All the hardware and equipment minus the fuel management. This kit should be ready in about two months or so. Look for it around the end of February beginning of March.
CARB Legal Kit – This kit will be 50-state legal, and while it won't have as much power as the other stages it WILL be street legal! More than likely this kit will be running around 6 psi. The release of this kit greatly revolves around the amount of time it takes CARB to grant us a test date and review our results. We can't give a solid ETA on this because it really is up to CARB.
Competition Kit – This will be a pre-tuned race kit that will not come with any warranty and will not be 50-state street legal but it will be a bolt in kit for the guys looking for a bit more power but don't want to bother with figuring out their own tuning. This kit will be developed along side the Tuner kit so look for it to be released around the beginning of March.
We invite you to follow along, we'll be updating our blog with new information, status updates, dyno information, and additional technical information. Coming up is a detailed explanation of the cast aluminum intake manifold we developed for this system, and the benefits of the additional engineering STILLEN has put into this kit.
STILLEN Supercharger Development Posts
370Z / G37 Supercharger System Progress: R&D [Current]