News Release
FOR IMMEDIATE RELEASE
March 18, 2010
STILLEN Introduces 500+HP Supercharger System for Nissan 370Z / Infiniti G37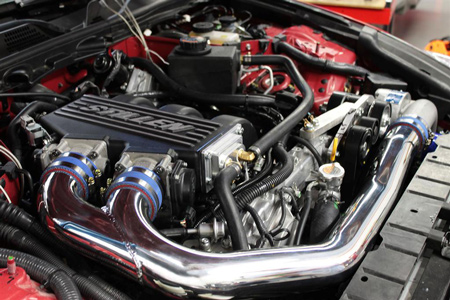 (Costa Mesa – CA) – After more than a year of development and testing, Steve Millen Sportparts (STILLEN) is proud to announce the release of the STILLEN Supercharger System for the Nissan 370Z and Infiniti G37 with the 3.7L VQ37 engine.
This complete bolt-on kit includes everything needed to increase the factory 332 horsepower to a tire shredding 500+ horsepower on 91 octane pump fuel!
STILLEN designed a new cast aluminum intake manifold specifically for this system, featuring longer runners and a large plenum for the engine to draw air, complete with integrated air-to-water intercooler system, dramatically cooling the air charge from the Vortech V-3 Supercharger unit. The V-3 features a self-contained oiling system and quiet V-belt design, with plenty of additional boost capability for those wanting even more power down the road.
Much of the assembly of the kit is done in advance, with the main supercharger unit being pre-assembled to the laser-cut billet aluminum mounting brackets. Installation is very straight forward, including detailed step-by-step instructions, requiring a typical shop 12 hours for the complete install.
STILLEN took extreme care in designing this system, ensuring that all additional coolers (oil, transmission, power steering, etc) would work with the intercooler system, as the Nissan VQ37 engine is prone to high oil temperatures unless properly cooled. STILLEN manufactures bolt-on cooler kits to keep these temperatures at normal levels no matter how hard the vehicle is being pushed.
Tuning is done with the use of an ECU based tuning device (reflash), larger 600cc injectors, and high output fuel pump. Intake features include a Polished Aluminum Intake Charge Pipe, and Cold Air Intake Y-Pipe with draw through MAF sensor bosses and filtered using genuine K&N intake filters.
At all levels of development the system was tested, both for street drivability and reliability under normal traffic and freeway conditions, as well as being put through its paces at El Toro Air Base, 140+ mph runs, hard driving on tight courses with excessive revving and redlining, and extensive monitoring of all pertinent air and fluid temperatures, air temps before and after the intercooler, etc.
At the onset of this project Steve Millen established two primary goals, performance and reliability. After our extensive reliability and dyno testing we can confidently say that we've exceeded both of these.
Steve Millen and STILLEN have a longstanding history with Nissan. As the lead factory driver, Steve drove the famous #75 300ZX to numerous IMSA wins and two World Championships.  Millen founded STILLEN 25 years ago and uses his intimate knowledge of Nissan engineering to develop products such as forced induction, exhausts, air intakes, suspension kits, big brake kits and urethane aero body components.
To learn more about the STILLEN Supercharger System for the 370Z / G37 and other STILLEN products including Nissan 370Z big brake kits and Infiniti G37 performance brake kits, visit www.stillen.com, email for more information at pr@stillen.com, or call STILLEN's knowledgeable tech staff at (800) 576-2131.
# # #
About STILLEN
STILLEN, located in Costa Mesa, CA, is a premier manufacturer and distributor of a select line of high performance products for late model import and domestic vehicles — developed by enthusiasts for enthusiasts. Founded in 1986 by renowned professional driver and race car builder, Steve Millen, STILLEN incorporates cutting edge race proven technology and advanced aerodynamic designs into the company's proprietary performance and appearance product lines. Millen is known worldwide for achieving the greatest number of wins in IMSA GT history during the course of an impressive racing career that spans 30 years and numerous wins in series around the globe – from LeMans to the 24 Hours of Daytona.  Still family owned and operated, STILLEN branded products include exhaust systems and components, superchargers, fuel systems and components, brake kits and components, and urethane body styling products. The company's race heritage and continued participation in motorsports has added special focus on motorsports proven R&D, manufacturing processes and materials, and expert, enthusiast-based customer support, distinguishing STILLEN in the field of performance manufacturers.  In addition, STILLEN is an online reseller of many high performance products for late model cars and trucks, import and domestic, and creator of unique, one-of-a-kind performance project vehicles.

For Further Information, Contact:
Josh Biggers
Marketing
STILLEN
714-540-5566, ext. 157
jbiggers@stillen.com
=========================================
STILLEN Supercharger Development Posts
=========================================
*Individual results will vary based on the baseline of the stock engine, type of dynomometer used, temperature, elevation, fuel and various other factors. Typical results are between 480-520HP (flywheel) at under 500′ elevation and below 75ºF.