News Release
FOR IMMEDIATE RELEASE
STILLEN OFFERS NEW AP RACING
2008-2010 BMW M3 (E9x)
FRONT AND REAR BIG BRAKE KITS
Features innovative Strap Drive System for road and track day applications
Costa Mesa, Calif. – AP Racing, the braking technology choice of professional race teams worldwide (including Rahal Letterman IMSA ALMS GT2 M3, BMW Motorsports FIA GT2 M3, etc), has introduced front and rear Big Brake System for the 2008-2010 BMW M3 (E9x). Available from the Brake Pros product division of STILLEN, these new brake upgrades fit most 18″ and 19″ OE wheels. They are compatible with OE ABS, traction control, stability systems and factory brake master cylinder.
Front systems may be ordered with AP Racing's newly updated 6-piston CP5555 calipers finished in black (AP7100), red (AP7100R) — or — limited-edition Comp Gray (AP7100G). For optimum mechanical and thermal balance, complimentary rear systems are advised. The rear systems are supplied with AP Racing's new CP5306 4-piston calipers in matching colors (AP7150 / AP7150R / AP7150G).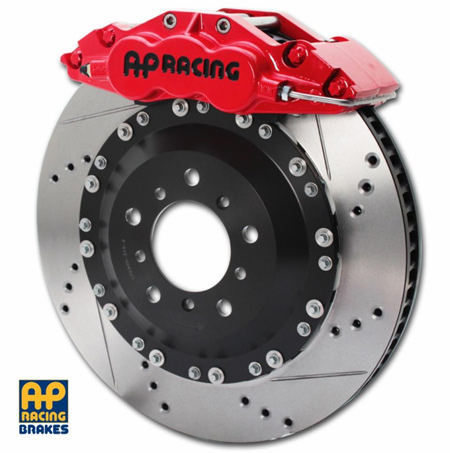 Manufactured for maximum stopping power and minimum brake fade, the kit offers high performance braking capability with race proven technology and comes complete with calipers, rotors, brake pads, coated stainless steel braided brake lines and all necessary mounting hardware for immediate bolt-on.
Two-piece modular rotors float on an aluminum hat and have 72 directionally curved vanes to maximize cooling in extreme brake situations. Both front and rear rotors are available in a cross-drilled and slotted pattern for an aggressive pad bite and better face cooling or can be purchased slotted only for aggressive track use. The AP Racing Strap Drive System has been developed for both road and track day applications. It uses a series of stainless steel straps to locate the disc to the mounting bell, producing a flexible coupling between the hub and the disc faces. This allows the disc to run true in the caliper under all conditions and also permits the disc to expand and contract without being restricted.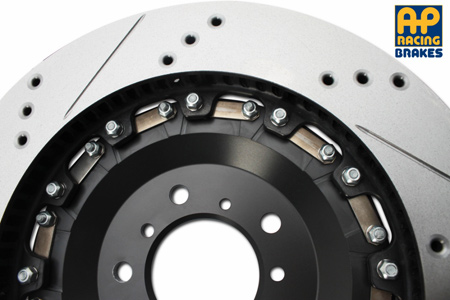 Strong, durable and designed to withstand any punishment, AP Racing Brake calipers are manufactured with a lightweight, pressure cast aluminum alloy 2-piece body and finished with a hard anodized 2-part paint finish. This 2-piece design is more rigid than commonly available monoblock calipers. Differential piston bores eliminate pad taper and maximize braking efficiency, and the anti-rattle clip eliminates pad knock and noise. A fixed radial mount ensures minimal caliper flex for the best available brake feel under all operating conditions.
To learn more about AP Racing Big Brake upgrade kits for the 2008-2010 BMW M3 and other high performance vehicles, visit www.stillen.com, e-mail pr@stillen.com, or call (888) 221-2012.
For high resolution images, please view the main Press Release here.
# # #
About STILLEN
Developed by enthusiasts for enthusiasts, STILLEN is a manufacturer and distributor of premium high performance products for late model import and domestic vehicles. Founded in 1986 by renowned professional driver and race car builder, Steve Millen, STILLEN incorporates cutting-edge race proven technology and advanced aerodynamic designs into the company's proprietary performance and appearance product lines. Millen is known worldwide for achieving the greatest number of wins in IMSA GT history during the course of an impressive 30-year racing career. Family owned and operated, STILLEN branded products include exhaust systems and components, superchargers, fuel systems and components, brake kits and components, and urethane body styling products. In addition, STILLEN is an online reseller of many high performance products for late model cars and trucks, import and domestic, and creator of unique, one-of-a-kind performance project vehicles.  For more information, visit www.STILLEN.com.
For Further Information, Contact:
Josh Biggers
Marketing
STILLEN
(714) 540-5566, ext. 157
jbiggers@stillen.com