We have never been busier here at STILLEN, with the R&D department at full throttle, new products launching left and right (515hp 370Z/G37 Supercharger, 370Z Body Kit, just some of the recent launches), the sales team busy on the phones, and all of us putting the final touches on what is shaping up to be a great Open House event here this Saturday!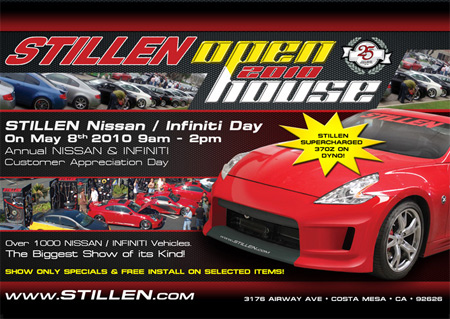 (High Resolution Version – Click Here)
We've been getting tons of feedback for our 25th year in business and are just as excited as the Nissan and Infiniti owners who are making the journey (from 5 different states!) out to the STILLEN headquarters this weekend to help us celebrate. We've done our part to make this event special. In our previous post we've outlined some details of the event (and they are recapped below), and we're working hard to make this even even more special.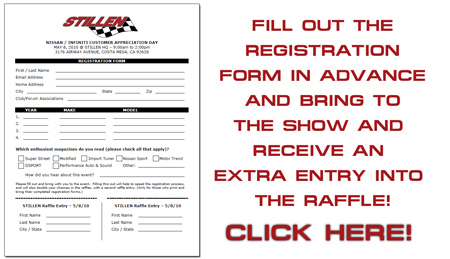 We've invited both the mainstream automotive media, as well as local media to this event, and are proud to announce we have a great lineup of editors coming out to take photos, film coverage of the event, AND also scout for potential feature vehicles to cover. This is your chance to be in your favorite magazine! So far we have confirmations from the following:
In addition to all of the magazine and video coverage, we've also asked some selected partner vendors of ours to bring out their booths and new products and display at the show. They will be on location in a new larger Vendor Row to show off everything new they have. We've also asked all of them to contribute prizes for the raffle that will be going on all day at the show. There will be thousands of dollars in giveaways for you to win just for showing up and registering at the event which is free! Current list of vendors are:
Recap of Show Details
Saturday, May 8th, 2010 – 9am – 2pm
3176 Airway Avenue, Costa Mesa, CA 92626
The STILLEN Open House event is arguably the largest gathering of Nissan/Infiniti owners in the world. Showcasing some of the most highly modified vehicles you can imagine from all over the United States. This day-long event is here at the STILLEN facility, and in 2008 we had to block off more of the street than usual and this year we are hoping to go even further! This show brings thousands of cars and is a great place to see all kinds of modified vehicles from mild to wild!
Come down, bring your Nissan or Infiniti (or just yourself) and join us as we celebrate 25 years of STILLEN and Nissan/Infiniti performance!
Special Features and Attractions:
Over a thousand highly modified Nissan/Infiniti cars from around the country
Discounted Dyno Runs

Free Install

on Selected Items

Show Specials

on Products
Special Guest Appearances
Shop Tours
Technical Seminars
New Product Launches
Vendors Displaying Product and Answering Questions
Great Raffle Prizes and Giveaways
And much much more!
Join the discussions, and join the caravans forming to head down to the event!
…many more, check your favorite forum!