We recently worked with Truckin' Magazine on some high speed brake testing, putting the AP Racing BBK designed by STILLEN to the ultimate test at El Toro Marine Base.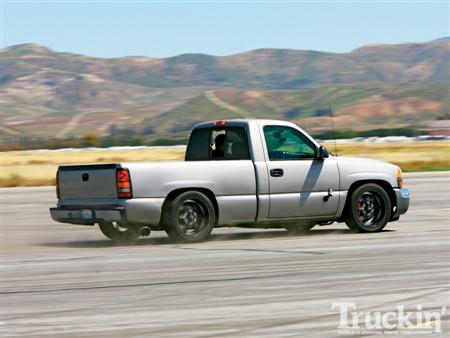 Truckin' editor Dan Ward pushed their 2004 GMC Sierra "Project Novakane" to the limit with repeated 80-0 mph stops beginning with the factory setup, swapped brake systems, and repeated the aggressive testing on the truck after outfitting the AP Racing setup onto the truck.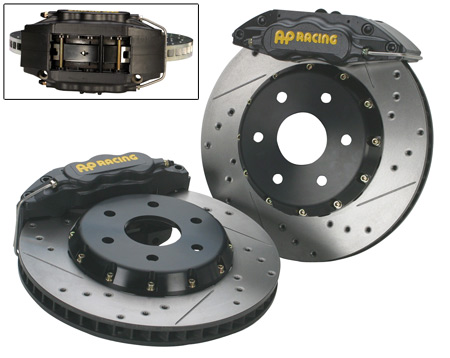 Below is an excert from the article with performance data from their extensive testing:
Truckin' Magazine – October 2010 Issue
"Rather than test the truck from 60 mph, we hit the 'whoa' pedal at 80 mph, after all, do you really drive 60 mph on the freeway? Factory braking performance was dreadful, as a combination of grooved rotors and newish pads made for chassis vibrations when stopping and a weak pedal. After bolting on the 20-inch wheels and tires to the Sierra, the sticky Nitto tires actually improved the stopping distances, which confused us at first, but then we released the overall weight of the new wheels and tires wasn't much heavier than our OE combo.
GM touted the redesigned '99+ fullsize trucks as having the best brakes in their long history of building trucks. That's nice marketing hype, but GPS data acquisition doesn't lie and the new AP Racing brakes are the double-D cups to the OE's training bra. We weren't surprised to have better overall stopping power, after all, that's what we expected from a company with a rich racing heritage, but what did surprise us was the pedal feel. Without being touchy, the brake pedal is now very linear with minimal inputs doing an impressive job of bringing the 4,300-pound truck to a standstill. As expected, the aggressive brake pads are heavy on the dust, which provides us another excuse to wash the wheels/tires more often. This upgrade was expensive, but unlike in many cases, you actually get what you pay for from Stillen.
With the AP kit bolted on, we made several 80-0 mph test runs and came away with an average of 226 ft, more than 144 ft than better than stock. That's equivalent to stopping in only 5.56 school buses or basically stopping before going through an entire intersection and saving the lives of more than 350 kids in those buses.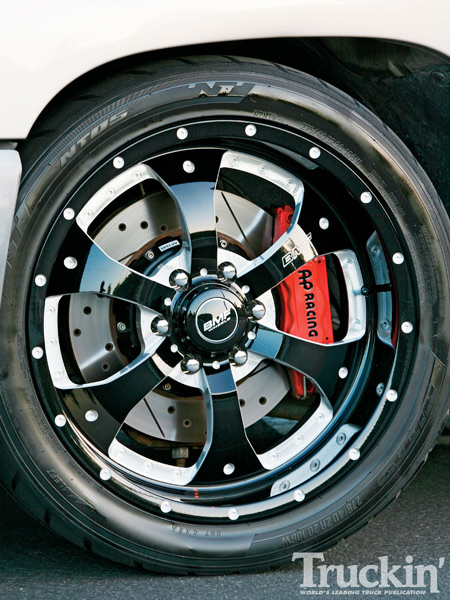 Also, the green AP heat paint that was applied to the stock rotors burned white, meaning they exceeded 430 degrees Celcius during hard braking, but the new AP rotors didn't burn through the green paint. This translates into the drilled holes and vents doing their job by keeping the rotor surface cooler, longer. If safety and performance are high on your list, bringing your truck to an immediate halt doesn't get much better than with AP Racing's bolt-on big brakes."
You can read the full article here, and below are some images from the story:
Truckin' Magazine Project Novakane Part III: AP Racing