Nick is an avid Nissan enthusiast and he and I have been sharing emails back and forth for about a year now as we helped him take his standard Altima Sedan from stock to one-of-a-kind.  Nick has done a lot of work to this car and his passion shines through in every way!  We are extremely proud to say that a lot of the parts Nick has on his ride are STILLEN original parts or one of the many great vendors we carry.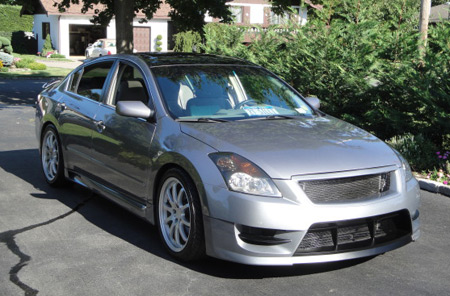 This Altima has been transformed from front to back and top to bottom!  Proving that even the smallest, subtle changes can make big impacts!  Here is the long list of modifications performed to the Altima.
Engine / Handling / Performance
Jet MAF Sensor
SentientByDesign (NICO Club) Grounding Kit – Blue
Racingline Front / Rear Endlinks
Bullydog GT Gas Tuner
Exterior
BlueBatmobile – GT-R Headlight overlays, Eyelids**, GT-R Taillight Overlays
AIT Carbon Fiber Roof Spoiler
Nismo Trunk Spoiler
Painted Roof Black
Nismo A34 Rims with Yokohama S.Drive tires (245/40/19)
Upper & Lower Billet Grille**
Ebay Sport Mesh Grille**
** – not currently on the car
Future Plans
Carbon Creations GT Concept Carbon Fiber Hood
Aftermarket rear bumper, if a company makes one that I like, which is unlikely.. lol.. STILLEN?
BC Coilovers
Set of wheels/tires for the track, undecided on both
As it stands now this car is "finished".  Future plans are in every modders mind but so are new cars.  Nick says he has his eyes on a new 370Z, preferably a Nismo.  However, he is also a fan of the STILLEN front fascia for the Z so who knows!  If you see this Altima rolling around Nick's home state of New York be sure to give him a wave.  If Nick's not in the car anymore then watch out for what's sure to be a beautiful Z soon to come!