It's bound to happen, you pull into that parking stall in a hurry, clipping the parking block and hearing that dreaded grinding noise.. Or seeing that impossibly sharp driveway, gripping the wheel tighter as you slowly creep over it, hoping the front won't get damaged too much as you hear the scraping happening and you've already committed..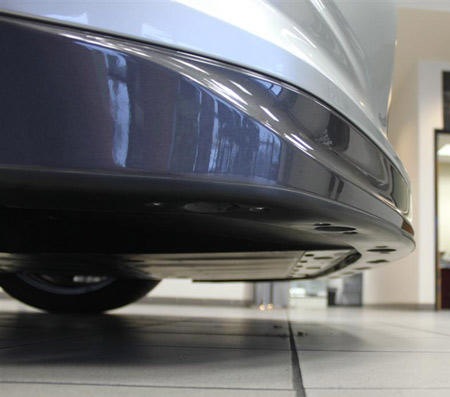 STILLEN has developed a protective skid plate made from urethane to combat this exact problem.  This piece is designed to conform to the bottom side of the front fascia, and protect against scraping and bumps.  It's designed to be sacrificial, and made from durable urethane that can stand the abuse, leaving your factory bumper free from mishaps.
This item is very easily installed, and can be done quickly at a shop, as well as in your driveway with minimal effort.  Everything needed to install is included in the kit, and provides full coverage across the bottom of the front fascia.  These are available and shipping now, pricing and ordering information available on the STILLEN website.
More information from the STILLEN Product Page:
STILLEN has developed a urethane Skid Plate which protects the OEM fascia and paint from scrapes and light bumps.  This piece is specifically molded to the GT-R's front bumper, and installs with 3M automotive acrylic foam tape and self-tapping screws to the underside. Durable urethane construction ensures no cracking, and doesn't require painting, although can be color matched if desired.
As with all STILLEN urethane body components, these are proudly designed and made in the USA at our Costa Mesa, California facility.