I am writing this from the hotel in New Plymouth.  The good news is, the STILLEN GT-R is running very well and Steve and Phillip are doing very well and working great together!  Steve took it kind of careful today as he wanted to see how the tires were going to fair.  These Dunlops are looking great and are showing hardly any wear.  We are very excited to see how they work through the week!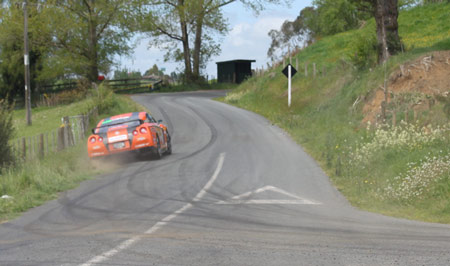 (For a larger version, click here)
Today was unusually tough as the weather was uncharacteristically warm..  The roads were hot and we really expected the tires to start wearing heavily.  However, The GT-R is running strong and working very well! We're getting some great in-car footage that I am very excited to bring home and post up soon!
There have been a few off road excursions made by a few cars today.  Most cars were pulled out of trouble and will be back tomorrow, but we're not so sure about one competitor in the Mazda 3 MPS.  It had a pretty serious off and rolled.  Fortunately the driver and co-driver made it out without injury.  I have been traveling with Conrad Healy today as we went from stage to stage getting photos and what not.  Here's just a couple photos from today's events, and as you see above, including Steve going a little wide through an acute right turn. More photos to come soon..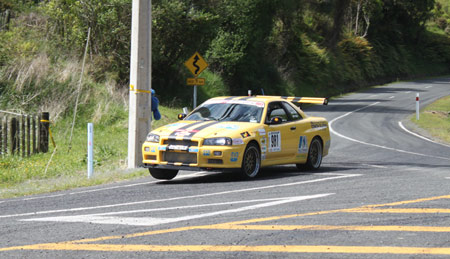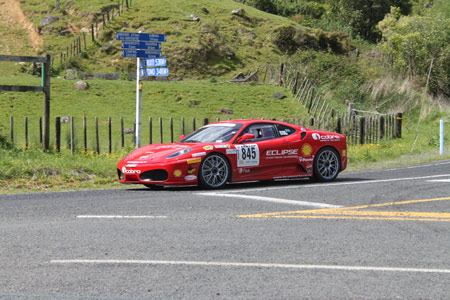 Modern Class Results for Day 1 – October 26, 2010
| | | | | |
| --- | --- | --- | --- | --- |
| # | Driver/Co Driver | Vehicle | Class | Total Time |
| 997 | Tony Quinn/Naomi Tillett | Nissan R35 GT-R | 9 | 01:29:04 |
| 957 | Clark Proctor/Tony Callaghan | Nissan GT-R35 | 9 | 01:29:05 |
| 975 | Steve Millen/Philip Adamson | Nissan Stillen GT-R | 9 | 01:31:16 |
| 945 | Glenn Inkster/Spencer Winn | Mitsubishi Lancer Evo 6 | 9 | 01:31:17 |
| 926 | Jason Gill/Jody Somervell | Mitsubishi EVO9 GT | 9 | 01:31:47 |
| 917 | Glenn Smith/Andy Lowe | Mitsubishi Lancer Evo X | 9 | 01:32:02 |
| 998 | Harry Dodson/Glenn Cupit | Nissan GT-R35 | 9 | 01:33:16 |
| 716 | Mark Whyte/Tracey Lance | Toyota Alteza | 7 | 01:33:24 |
| 944 | Rick Giddy/Joel Giddy | Subaru WRX STI | 9 | 01:34:10 |
| 840 | Martin Dippie/Greg Ball | Porsche GT3 RS | 8 | 01:34:18 |
Follow all of the coverage of the 2010 Dunlop Targa New Zealand Rally