We are in our second night at Palmerston North and have some good news!  Steve is really enjoying the car and having a great time.  He pushed hard today and caught some ground on Proctor in the Metalman car but unfortunately another car caught more ground and squeaked ahead of us by a few seconds.  So, currently we're running 4th overall but making gains on the competition.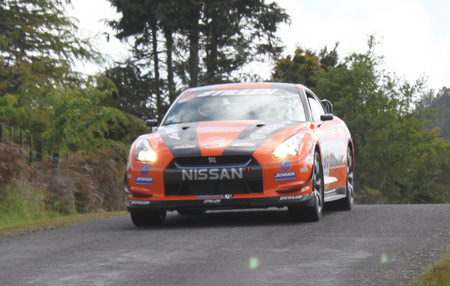 Something I did not include in yesterdays update is the great sportsmanship on this rally.  People work hard to help each other and teams competing against each other have been known to lend a hand and help their competitors to get them back on the road a little sooner.  Last night both Proctor and Dodson developed leaky CV boots so our teams headed over and gave a few pointers on how to get it done.  You may remember from our Newfoundland recaps, Mark and Joe both have quite a fair amount of experience when dealing with leaky CV boots on a targa rally!
Today was another beautiful day.  Great weather and great stages.  There were only four stages today but they were pretty massive!  One stage was raced on the forgotten highway to Whangamamana (phong a mama nah.)  It is a small little town that has a 40 kilometer highway leading in and only one other small road leading out.  For the targa they shut down the main "forgotten" highway and let the cars have at it.  It is a great stage and one that I remember vividly as it is where I earned my nickname of "Ralph McPukin".  Phillip appears to have a stomach more suited to navigator duties and was able to keep his breakfast under control.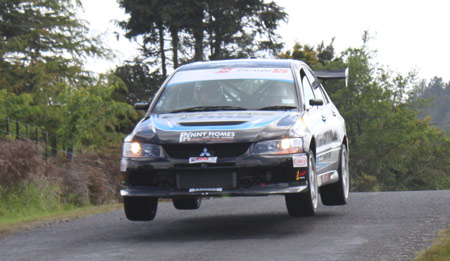 Before Stages 3 and 4 the guys raced through a pretty famous stage that has a series of three jumps.  Most of the cars take it fairly carefully through here as it the jumps have been known to rip out oil pans, damage suspensions, and unsettle cars enough to launch them into nearby farmers paddocks.  The big surprise of the jumps was the Ferrari F430 challenge car leaping for the sky and getting some good air!  Steve took it easy through this area as he did not want to hurt the car.
Quinn showed why he has won races as he flew his GT-R off the jumps!
Overall, today was a great day and the team is very excited for the rest of the week.  Steve and Phillip are doing a great job maintaining the tires and the Dunlop's are wearing very well!  We have confirmed that last year Quinn took 8 tires and those final two tires can cost you a lot in time!  So, with that in mind, our goal is to keep to the 6 tire plan and not be forced to take any time penalties with additional tires.
UPDATE:  Video of cars jumping a section and interview with Kyle Millen from Taranaki Daily News
Wish us luck as we push on!  Here's some additional photos from the day:
Modern Class Results after Day 2 – October 27, 2010
| | | | | |
| --- | --- | --- | --- | --- |
| # | Driver/Co Driver | Vehicle | Class | Total Event |
| 997 | Tony Quinn/Naomi Tillett | Nissan R35 GT-R | 9 | 02:36:21 |
| 957 | Clark Proctor/Tony Callaghan | Nissan GT-R35 | 9 | 02:38:25 |
| 945 | Glenn Inkster/Spencer Winn | Mitsubishi Lancer Evo 6 | 9 | 02:39:57 |
| 975 | Steve Millen/Philip Adamson | Nissan Stillen GT-R | 9 | 02:40:11 |
| 926 | Jason Gill/Jody Somervell | Mitsubishi EVO9 GT | 9 | 02:40:49 |
| 998 | Harry Dodson/Glenn Cupit | Nissan GT-R35 | 9 | 02:43:18 |
| 917 | Glenn Smith/Andy Lowe | Mitsubishi Lancer Evo X | 9 | 02:43:24 |
| 944 | Rick Giddy/Joel Giddy | Subaru WRX STI | 9 | 02:44:55 |
| 840 | Martin Dippie/Greg Ball | Porsche GT3 RS | 8 | 02:45:06 |
| 947 | Brian Green/Fleur Pedersen | Mitsubishi Lancer Evo X RS | 9 | 02:48:35 |
Follow all of the coverage of the 2010 Dunlop Targa New Zealand Rally