We have made it to New Plymouth and I am writing this update from a Beaurepairs Service Center.  Tonight we went through the car for a mid-week check up, went through the oil change, checked brake wear, tires, etc.  Also the guys are having to fix the front lip after a local at one of the lunch stops guided Steve straight into the curb when he was trying to get into the parking area for lunch.  They had stacked up some blocks of wood to get over the curb and with three guys watching they guided him straight into the curb and pushed the front lip back!  Mark and Joe have had a pretty easy week though compared to Newfoundland so I guess it's good to keep them up for a night.  All is good on the car and the teams spirits are high.
We came to the service center to rotate the tires on the rims.  Today was another hot day and we saw some pretty serious tire wear occurring and we want to stay ahead of it as tire consumption is a big part of the strategy on the Targa rallies.  On the Targa we're only allowed six tires, including the four we start with.  We figured we would be wearing out fronts more than rears as that was the case in Newfoundland however with the warm weather and lack of rain Steve is able to really toss the car around and because of that, rear tire wear has become the focus.  Fortunately the fronts are wearing perfectly so we're crossing our fingers that we'll be able to make it all week on the fronts!
Today was actually a pretty big shake up day.  We learned this morning that Inkster, currently listed in second place, is the champion of the Taranaki tarmac rally series.  Which more than likely played into his favor as the last two days were spent racing in guess where…the Taranaki's!  Fortunately we drove out of that region today and into a more level playing field and Steve and Phillip were able to steadily chop away at their times and make some serious gains!  Now they're only one second behind Inkster.
The big shake up came on Stage 2.  Conrad and I were standing on a pretty famous corner where the cars come through a short straight away, come to a hair pin left hand turn and accelerate up a mild incline.  It is very slippery (mossy road surface) in this area and usually catches a few people out.  This year all of the competitor's went through cleanly however we noticed Proctor's rear lower valance hanging off and rear fascia about ready to come up off completely.  It was pretty clear that he had an event somewhere along the stage.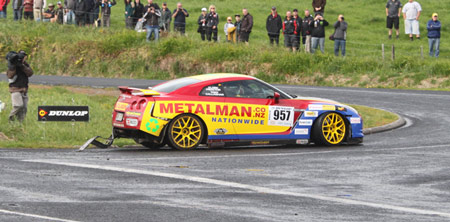 Then, as Conrad and I were walking back to the car we saw a huge cloud of smoke coming up the motorway.  It turned out to be Proctor again.  Unfortunately he had blown the engine on that stage and his rally has ended early.  We're disappointed to report that as he is always a joy to watch and really hangs the car out there.  We're looking forward to seeing Clark and the Metalman crew back in 2011.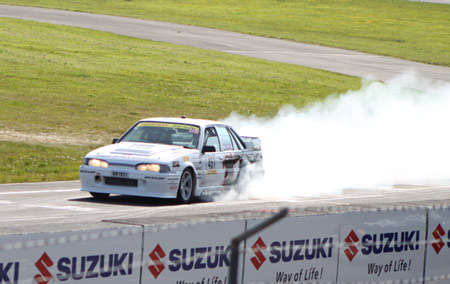 The last stage of the day was run at Manfield Race Rrack.  Steve and Tony Quinn set identical times around the track of 8:18.  It was a struggle for both drivers as they were on the track with slower traffic at times that were absolutely holding them up.  No worries though, we're looking forward to the next two days and we're hoping to take some time off Quinn and see how things lie in the end.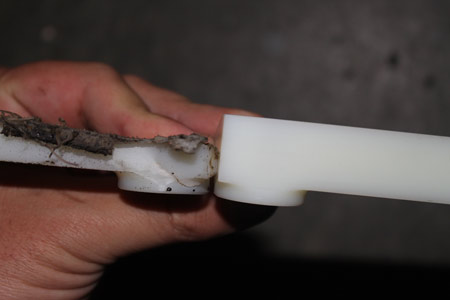 I have added some photos of the Delrin skid blocks we use on the bottom of the GT-R.  We design these blocks to be sacrificial pieces that take the abuse rather than damaging the factory under trays or cross members.  Judging by the blocks, you can't say Steve and Phillip aren't trying!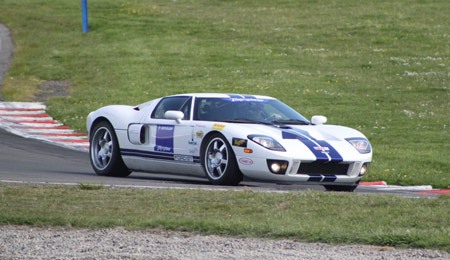 I keep thinking the same thing every time I am standing on the rally roads.  This is probably the coolest event in the world.  Every type of car is on display here from Fiat Abarth's to FOUR GT-R's, a Ford GT in the Targa tour, old Porsche's as well as new.  Evo's and Subaru's literally flying through the roads and letting loose.  You don't get anything like this anywhere in the world.  Heck, there is even a Maserati and a Ferrari F430 Challenge!
The Targa New Zealand rally is awesome and needs to be on every car enthusiasts "bucket list".
Modern Class Results after Day 3 – October 28, 2010
| | | | | |
| --- | --- | --- | --- | --- |
| # | Driver/Co Driver | Vehicle | Class | Total Event |
| 997 | Tony Quinn/Naomi Tillett | Nissan R35 GT-R | 9 | 03:27:29 |
| 945 | Glenn Inkster/Spencer Winn | Mitsubishi Lancer Evo 6 | 9 | 03:31:58 |
| 975 | Steve Millen/Philip Adamson | Nissan Stillen GT-R | 9 | 03:31:59 |
| 926 | Jason Gill/Jody Somervell | Mitsubishi EVO9 GT | 9 | 03:32:56 |
| 998 | Harry Dodson/Glenn Cupit | Nissan GT-R35 | 9 | 03:35:23 |
| 840 | Martin Dippie/Greg Ball | Porsche GT3 RS | 8 | 03:38:55 |
| 917 | Glenn Smith/Andy Lowe | Mitsubishi Lancer Evo X | 9 | 03:39:56 |
| 947 | Brian Green/Fleur Pedersen | Mitsubishi Lancer Evo X RS | 9 | 03:43:41 |
| 775 | Barry Hare/Nigel Parr | BMW mini Cooper | 7 | 03:45:08 |
| 670 | Gary Murphy/Terry Rouse | BMW M3 | 6 | 03:45:22 |
Follow all of the coverage of the 2010 Dunlop Targa New Zealand Rally