Wellington is a lot like it normally is…Cold…Windy…and a high probability of rain!  Not a huge surprise yet very welcomed!  We are holding strong in third place and Steve drove hard today and won a couple stages chipping away time at Quinn and Inkster.  Inkster fought hard and also had a great showing and we are expecting tomorrow to bring an awesome battle!  All three vehicles are running strong and working hard!
Last night I was walking through the parking lot and noticed a car on a trailer covered by a tarp.  Usually this can only mean one thing so we went up and checked it out.  Sure enough, the car had a big off and won't be returning to the rally.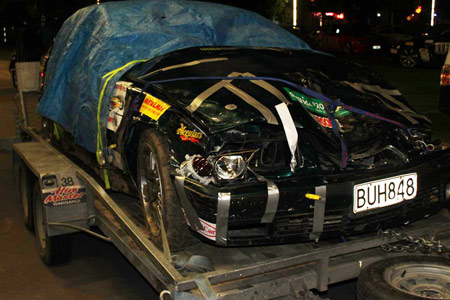 It was kind of funny because the driver and co-driver initially asked if they could work on the car and possibly get it back in the race…looking at these pictures, you can see they were pretty optimistic at first and then realized shortly there after that their rally was done!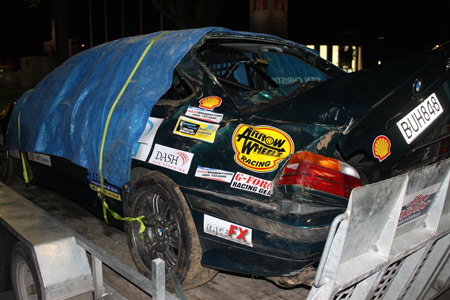 Clark Proctor has decided to hang around on the Targa rally and is following around on a borrowed Harley.  His automotive luck isn't shining this week as I walked through one stage and saw the Harley…along with a trail of oil coming from the oil tank leading to the chain guard, frame, and other areas of the bike.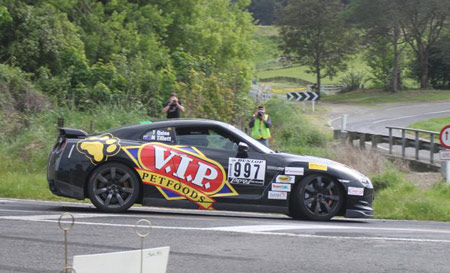 Dodson had a pretty impressive turn around today.  Coming up surprisingly and winning a stage!  This was especially impressive considering he celebrated his 50th birthday last night!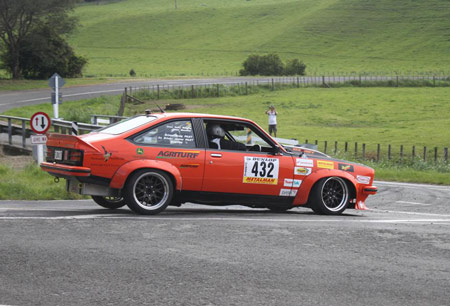 Some of the two day Wellington cars have joined the rally and are pushing hard!  We're looking forward to seeing what they can do!  Some of the cars that have shown up are VERY impressive and well sorted out.
Speaking of which, Mark, Joe, and I had dinner tonight and drew up a few ideas of what we can improve on for next year.  It should be very exciting and I think some of our ideas will be pretty surprising!
1 more day of racing!
Modern Class Results after Day 4 – October 29, 2010
| | | | | |
| --- | --- | --- | --- | --- |
| # | Driver/Co Driver | Vehicle | Class | Total Event |
| 997 | Tony Quinn/Naomi Tillett | Nissan R35 GT-R | 9 | 04:39:14 |
| 945 | Glenn Inkster/Spencer Winn | Mitsubishi Lancer Evo 6 | 9 | 04:42:48 |
| 975 | Steve Millen/Philip Adamson | Nissan Stillen GT-R | 9 | 04:43:27 |
| 926 | Jason Gill/Jody Somervell | Mitsubishi EVO9 GT | 9 | 04:44:59 |
| 998 | Harry Dodson/Glenn Cupit | Nissan GT-R35 | 9 | 04:46:26 |
| 917 | Glenn Smith/Andy Lowe | Mitsubishi Lancer Evo X | 9 | 04:56:21 |
| 947 | Brian Green/Fleur Pedersen | Mitsubishi Lancer Evo X RS | 9 | 04:59:13 |
| 944 | Rick Giddy/Joel Giddy | Subaru WRX STI | 9 | 05:02:35 |
| 670 | Gary Murphy/Terry Rouse | BMW M3 | 6 | 05:03:05 |
| 820 | Richard  Mehrtens/Stephen Howard | MercedesBenz CLK63 AMG Black | 8 | 05:03:18 |
Follow all of the coverage of the 2010 Dunlop Targa New Zealand Rally