News Release
For Immediate Release
STILLEN OFFERS RUGGED AP RACING BRAKE UPGRADE
FOR 2000-2010 GM 2500/3500 TRUCKS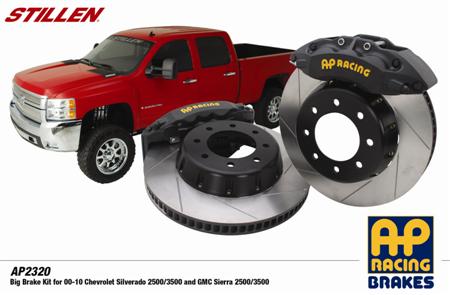 Costa Mesa, Calif.– STILLEN announces the availability of a new front and rear big brake system for the 2000-2010 Chevrolet Silverado 2500/3500 and GMC Sierra 2500/3500 (including Dual Rear Wheel models). This rugged, state-of-the-art brake upgrade is based on AP Racing brake technology, the number one choice for a wide range of professional race teams that compete at the highest levels (i.e. NASCAR, FORMULA 1).
Available from the STILLEN brake product division, these GM Truck brake upgrades are compatible with OE ABS, traction control and stability systems as well as the original master cylinder to provide the ultimate in towing and big load capacity.
The front Big Brake System (AP2320) features AP Racing's new, oversized 6-piston Heavy Duty caliper (CP8510) matched with the largest available aftermarket (16.1" diameter) 2-piece floating cross-drilled and slotted rotors. Slotted-only rotors are a no-cost option. This STILLEN brake system also includes high-performance Ferodo DS2500 brake pads along with Goodridge stainless steel brake lines, brackets and all necessary mounting hardware for immediate bolt-on.
For the matching and balanced rear Big Brake system (AP6950), STILLEN specified a special version of AP Racing's Heavy Duty 4-piston caliper (CP5328) clamping on 15″ diameter 2-piece cross-drilled and slotted rotors, also available in slotted-only. The rear upgrade also includes Ferodo DS2500 brake pads and all necessary hardware.
This powerful brake system requires 20" or larger wheels with adequate spoke clearance. To ensure proper fitment, customers should visit www.stillen.com to download an easy-to-use brake profile template to check wheel fitment for both the front and rear brake kits before ordering. When ordering custom wheels, consult with STILLEN in advance to ensure compatibility.
To learn more about AP Racing Big Brake upgrade kits for the 2000-2010 Chevrolet Silverado 2500/3500 and GMC Sierra 2500/3500 and other pickup trucks, visit www.stillen.com, e-mail pr@stillen.com , or call (866) 250-5542.
# # #
About STILLEN
Developed by enthusiasts for enthusiasts, STILLEN is a manufacturer and distributor of premium high performance products for late model import and domestic vehicles. Founded in 1986 by renowned professional driver and race car builder Steve Millen, STILLEN incorporates cutting-edge race proven technology and advanced aerodynamic designs into the company's proprietary performance and appearance product lines. Millen is known worldwide for achieving the greatest number of wins in IMSA GT history during the course of an impressive 30-year racing career. Family owned and operated, STILLEN branded products include exhaust systems and components, superchargers, fuel systems and components, brake kits and components and urethane body styling products. In addition, STILLEN is an online reseller of many high performance products for late model cars and trucks, import and domestic, and creator of unique, one-of-a-kind performance project vehicles. For more information, visit
www.STILLEN.com
.