The Nissan Juke is the latest mini-crossover to be released, and with it's unique look, turbocharged and direct-injected 1.6L engine with solid performance numbers (not to mention available in AWD!), it's no wonder this car is making waves and creating buzz.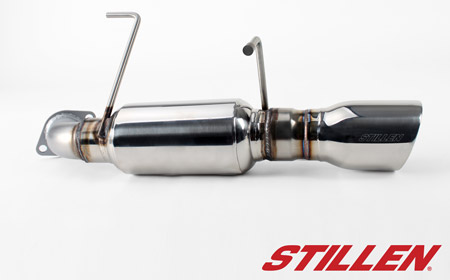 UPDATE 3/2011: We have made a change to the stainless steel tip – Improving the flow with the Juke body, and going with a dual wall slash cut tip. See below for images installed on the Juke!
The calls were almost immediate from Nissan dealerships across the country inquiring what our plans were, and when STILLEN would have upgrades available for the Juke. We at STILLEN are happy to announce that day is here, beginning with the STILLEN Nissan Juke Exhaust. [Video Below]
The STILLEN Rear Section Exhaust System bolts up quickly, replacing the OEM section, and utilizing the factory hanger locations, making this an easy upgrade for any enthusiast. No welding, fabrication or cutting is required to install. Performance is fantastic, with the rear section exhaust generating 13HP and 14Lb/Ft at the wheels on the dyno!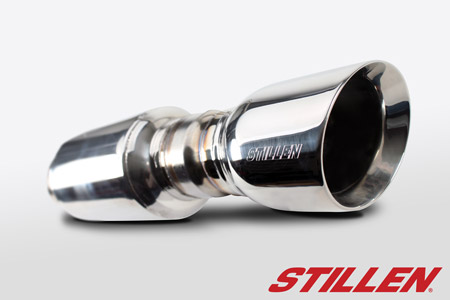 The muffler and tips are of polished 304 Stainless Steel for protection against the elements, and offer a stylish appearance. The double-wall polished stainless tip makes cleaning a breeze, and features the STILLEN logo laser etched into the side.
The STILLEN Exhaust brings an aggressive tone to the otherwise noticibly quiet exhaust note of the Juke, but under normal cruising there is no exhaust drone and no audible presence of the exhaust. When the throttle is pushed, the true growl of the Turbo 1.6L MR16DDT engine comes alive.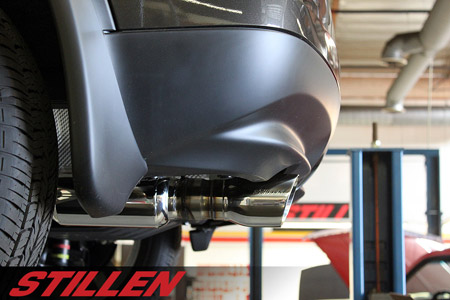 More information and pricing can be found on the STILLEN Product Page:
Also available for the 2011 Nissan Juke, the STILLEN License Plate Bracket, allowing the use of a front license plate without having to drill into the front fascia, like the factory Nissan bracket does. More information here: 2011 Nissan Juke No Drilling Front License Plate Bracket Released!