Goodridge has released information on their new limited edition Phantom Gstop Brakeline kits available for popular selected applications. For the ultimate brake line upgrade, look no further!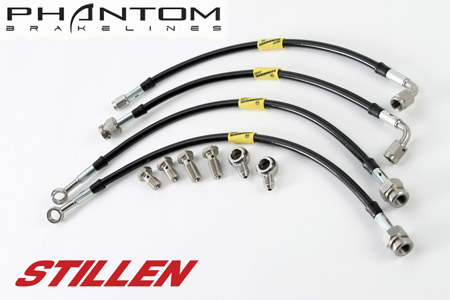 Upgraded stainless steel brake lines are one of the easiest modifications to make and get tangible results from.  Installing Goodridge G-Stop SS lines will dramatically improve brake pedal feel, eliminate the soft spongy feeling, and improve braking performance and reducing stopping distances.
The Phantom G-Stop kits take that performance and kick it up a notch, utilizing stainless hose ends, banjos and bolts, as well as feature black poly-coating to the stainless steel hoses.  Even the brackets and hardware are protective coated, creating a superior appearance, and ensuring durability.
All of the benefits of the best brakeline manufacturer, Goodridge, with upgraded hardware and coatings makes this a great modification for any enthusiast!
Initial Phantom Brakeline Applications Include:
2010-2011 Chevrolet Camaro SS
1997-2004 Chevrolet Corvette (Including Z06)
2005-2011 Chevrolet Corvette C6 (Except Z06)
2006-2011 Chevrolet Corvette Z06
2003-2007 Infiniti G35 Coupe (Including Brembo)
2003-2006 Infiniti G35 Sedan (Including Brembo – Excluding AWD)
2003-2007 Nissan 350Z (Including Brembo)
2009-2011 Nissan GT-R R35
1997-2004 Porsche 911/996 (Including Turbo)
2005-2008 Porsche 911/997 C2, C4, C4S
1997-2004 Porsche Boxster/986 (All Models)
2003-2006 Subaru Outback
2002-2007 Subaru Impreza Wagon, WRX & STi
2008-2011 Subaru Impreza WRX (Except STi)
2006-2011 BMW 128i (E82/88)
2006-2011 BMW 135i (E82/88)
2007-2011 BMW 328i exc. Xi (E90/91/92/93)
2006-2006 BMW 330i exc. Xi (E90/91/92/93)
2007-2011 BMW 335i exc. Xi (E90/91/92/93)
2005-2011 Ford Mustang GT (Including 5.0)
2007-2011 Shelby GT500
2005-2011 Ford Mustang V6 (with ABS)
Various 1998-2007 Mercedes C-Class / E-Class / SLK