Well, the week long Targa rally has come to a close here inNew Zealand.  It was a great week and Steve and Jen did a very good job.  Before arriving for the start of the week we installed larger fuel injectors, a new tune, and some stiffer springs in the shocks.  We figured this would be a fairly natural and reliable progression.  We had no idea what the other GT-R teams had in store!  Tony Quinn arrived with bigger turbos and an engine that had been bored and fitted with larger pistons, 410mm brake rotors and more.  Proctor had a stroker motor with stock turbos as well as larger brake rotors.  Steve said that as Proctor's GT-R launched off the line he would spin all four wheels.  Dodson's R35 also came in with heavy modifications and increased horsepower.  Last year, we were all on a similar playing field and ran tight all week.  This year everyone brought the big guns.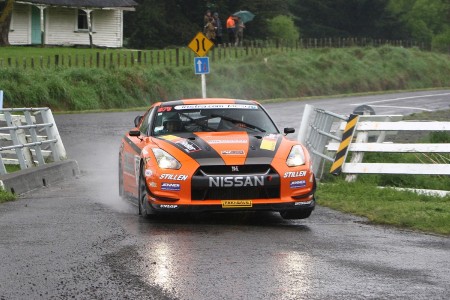 Steve and Jen pushed hard all week and were able to bring the car home with a fourth place finish.  The event winner, Tony Quinn in his R35, won the event for his fourth time.  Glenn Inkster in his high horsepower Mitsubishi Evo 6 came home in second place just a few seconds behind Quinn despite having a couple of offs and having to take a tire penalty.  Glenn Smith rounded out the top 3 in his 600+ horsepower Mitsubishi Evo X which looked like it had just come out of a video game!
Steve was pushing hard the last day of competition and had a bit of an off.  He was able to carry on with the stage and never actually stopped moving.  We don't think he lost more than a few seconds after it was all said and done.
These Targa rallies are a great way to test as well as develop new products.  This year we brought down a few new STILLEN products like adjustable camber arms and some other performance components as well as the new generation Dunlop Sport Maxx tires.  These Targa events are run on roads that would normally be open to the public so you can really see how the parts are going to perform in all conditions in the real world.  The new Dunlop tires are an amazing tire and proved to work well all week long.  In an event like the Targa where you only get 8 tires to last the week it's important that your tires will offer supreme grip without wearing too quickly.  The Dunlop Sport Maxx tires worked great in the wet and dry conditions all week long!
The 2011 Targa New Zealand rally ran the way these rallies are supposed to be run.  There were hot days, there were rainy days, and all in all it was a lot of fun!  Steve and Jen did a great job and really fought hard for a top five finish!  On the drive North after the rally was over we had already started planning for next year and coming with ways to improve the car to make it even more competitive for next year!  We have some pretty wild ideas forming and we're excited to show you all what we come up with!
Check out the video below for a taste of the action, and more photos below!
httpv://www.youtube.com/watch?v=XUYTzOKVisI
All 2011 Targa New Zealand Coverage
================================================