We are officially past the middle of the week and the car is running very well!  Tonight we swung by a local auto shop to do some simple service work.  Just an oil change, brake pad replacement and general inspection.  Everything looked great and we can't wait to see how Steve and Jen do the next two days.  Today consisted of a lot of running around and trying to help the service crew and I wasn't able to get on any stages.  However, i assure you there will be more photos coming in tomorrow.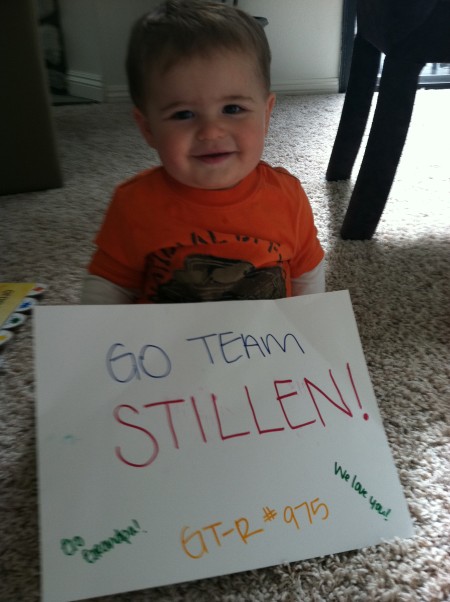 There's no lack of support for Steve Millen, as shown by his youngest fan, his grandson Braeden!
There have been quite a few interesting developments over the day.  Quinn was experiencing a damaged oil return line from one of his turbos but that is/was a pretty minor repair.  The car is back in overnight parking now and ready for tomorrow.  Glenn Inkster in the Evo 6 Mitsubishi is still going strong, actually had a bit of an off today on one stage damaging his hood and front bumper.  Nothing too major though as he only lost 15 seconds on the stage!  Rumor is that he actually spun one or two times after that stage and is still able to continue taking time off the leaders!  man, this guy can drive!!!
Leigh Hopper, the guy dad raced in the helicopter yesterday, apparently though he was still in his helicopter…The story is he tried doing a barrel roll on the fifth stage of the day before realizing his car doesn't fly quite like the chopper…Haven't seen the car yet but apparently it was on its roof.  Hopper, always in good spirits, was sited on the side of the stage throwing rocks at the Giddy car, good friends of his, as they went by!  Best of luck to team HTR in getting the car back out in the morning.
Overall the car and the team are working well.  Steve and Jen are doing their best and we're hoping for a good result!
More photos and updates to come tomorrow!
Another angle of yesterday's GT-R vs. Helicopter drag race
Quick interview with Steve Millen at 3:00 in on the official Targa NZ daily recap
All 2011 Targa New Zealand Coverage
================================================