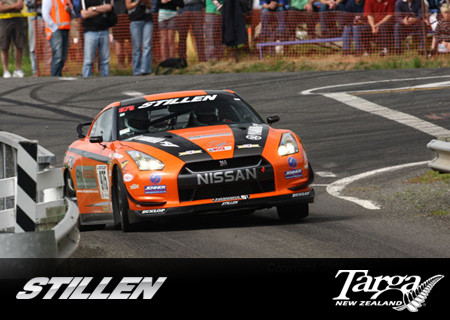 Well, we're back in New Zealand for the Targa Rally.  Today was the first official day of the event and it started with scrutineering in the viaduct in Auckland Harbor.  Last night was pretty exciting as the All Blacks (New Zealand rugby team) won the world cup!  Today was a bit busy in Auckland as they shut down the main streets and had a ticker tape parade for the team.  GO ALL BLACKS!!!!!
Once we got down to the scrutineering location we let Steve and Jen (more on Jen later in this post) do their thing with the organizers of the event.  Mark and Joe (you know them from years past) have to follow up with their crew meeting.  Conrad and I cruised through the park ferme (parking area) to check out some of the competitors cars.  The BS has already started as some of the other GT-R teams are telling us they aren't running as much power as we know they are….That's OK…we're not going to tell them everything we've done either!!!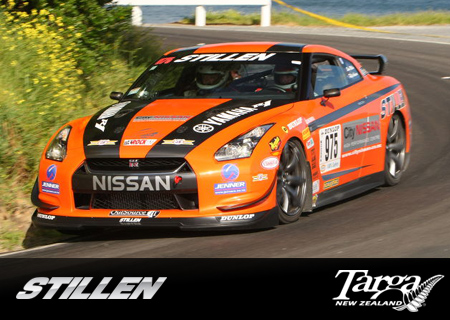 Joe Nagy of Nissan North America tech center joins the team again this year.  This is Joe's third event with the Team STILLEN Nissan GT-R. He worked with Steve on the initial launch of the GT R at all of the magazine and dealer demonstrations and knows these cars inside and out.  He and I flew into New Zealand on Thursday and spent Thursday and Friday preparing the car.  On Saturday Mark Ungles flew in and joined us while we worked on the tuning and further preparation.  Mark has been with the team since 2006, the first year of the Ford GT.  He brings a lot of knowledge of rallying and great mechanical aptitude.  We spent Saturday and Sunday wrapping up the final adjustments to the car, ride height, tuning (special thanks to Jack at Horsepower Logic) etc.  Overall preparation has been relatively easy.  We added some adjustable rear toe arms as well as changed springs, injectors, and a few other little tweaks.
Jen Horsey is new to the team but not new to racing, especially rally!  Jen has been involved in North American rally racing since 2004.  You may remember her from the X Games in car commentator.  She was also the co-driver in the Evo that decided to do an endo in X Games competition over the jump in 2008…We've already told her that she was brought on board for her navigator skills…not acrobatics abilities.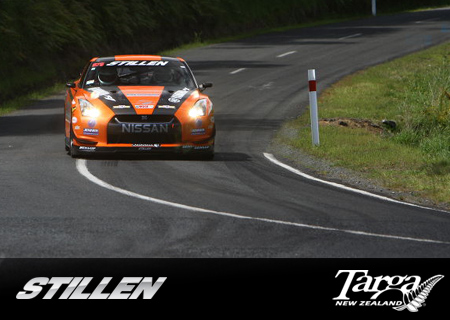 You all know Steve Millen.  Steve is the President and CEO of STILLEN.  Steve was born and raised in New Zealand, competing in rally and hill climb events before progressing into saloon and open wheeled race cars.  After moving to America, racing all over the world, and winning multiple championships Steve still looks forward to coming home every year and competing in the Targa rally.  These events are always a fun time and a great way to see the country and catch up with friends for a week.  Plus it doesn't hurt to "sight see" at 100+ MPH through back country roads!
Steve's wife Jodi is kind of the team mom.  Taking care of the service crew as well as making sure Steve and Jen have everything they need.  There is no more important job on the team than making sure the driver and co driver are happy and the service crew is fed and ready at any moment.
Then there is me and Conrad.  I'm Kyle Millen, I've been coming on the Targa's every year since 2006.  I have done some navigator work but after a couple of bad experiences with motion sickness we've all agreed I'll be most useful as the reporter sending updates back to everyone back home!  Conrad Healey has been on every Targa New Zealand Dad has ever done.
We're ready to go, the car is running great!  Steve and Jen are working on the route books and how they want to call the instructions.  Jodi is getting the crew sorted with everything they need.  I need to get to work to make sure all the cameras and what not are ready.  Check back tomorrow for the first update of actual racing news!  By the way….the first day is allllll new stages!  Needless to say we're very excited!
Here's a quick video of the STILLEN GT-R, lots more to come as the Rally begins!
httpv://www.youtube.com/watch?v=6uswbSqzSs4
If you missed the previous years coverage, here's a compilation video of some of the NZ courses from 2010, and links to previous years coverage:
httpv://www.youtube.com/watch?v=pcg-wGjyZGY
2010 Recap: http://blog.stillen.com/2010/11/targa-new-zealand-rally-2010-recap-and-wrap-up/
2008 Recap: http://blog.stillen.com/2008/11/2008-dunlop-targa-rally-new-zealand-wrap-up/
All 2011 Targa New Zealand Coverage
================================================