Few things stick out in my life as such happy times as ripping open the giant Slot Car box at Christmas with the TYCO logo and the huge "Zero Gravity Cliff Hangers" or "US1 Trucking" emblazoned on the side, shoving aside other gifts and wads of torn and crumpled wrapping paper to clear enough room and take over the living room.
Getting the track set up, plugged in, the hum of the power supply, finally jamming a finger down on the trigger and watching the little car shoot down the track at what seems like 900mph with tiny sparks visible under the chassis, not having a chance in the world at making the turn and spiraling off somehow getting airborne and disappearing in the depths and darkness behind the Christmas tree in the corner.. Controller surprisingly hot in my hand and a curl of smoke coming up through the vents..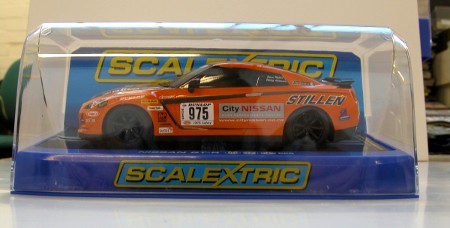 For those who hung on to those good times and continued on with Slot Car Racing, no doubt Scalextric is a name you've heard of and trust. They specialize in bringing realistic vehicles to the slot car world, and this year they've taken on recreating the STILLEN R35 Nissan GT-R in striking detail.
The Nissan GT-R is done in a 1:32 scale, and even be modified just like the real thing, changing anything from tires to gears to swapping motors. Check out the detail in the pictures below:
Steve Millen and STILLEN have a history with Scalextrix, as they also did the STILLEN Ford GT a couple of years back after it competed in the New Zealand Targa:
So if you are a slot car enthusiast, or know of one, this is a perfect Christmas item to add to the vehicle fleet!