Hooraaaaaaaay we made the cover of IMPORT TUNER!!! Well sort of, we actually made the cover of IMPORTTUNER.COM. Today, or 4/26/12, (depending on when you read this) Import Tuner put our 370z Power Pages feature on the homepage of their website.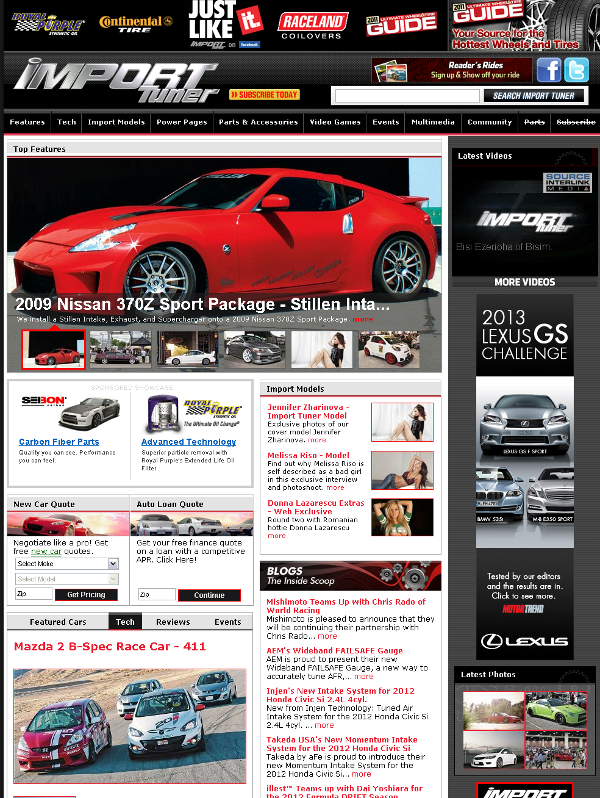 As we have stated before in earlier blog entries, the NISSAN 370Z is a very good car straight out of the box, and it takes quite a bit of patience and finess to squeeze extra ponies out of the VQ37. That being said, adding the wrong Intakes or exhausts can actually rob that car of some horsepower, so to answer the troves of people on the forums asking us how much power our 370z products make… check out the Power Pages Article here..
http://www.importtuner.com/powerpages/
SPOILER ALERT!!!! With some mild tuning we managed to squeeze and extra 139 HP out of the venerable 370z with just 3 PARTS!!!! … That's just like throwing an extra honda civic in the engine bay of your 370z but without any of the weight.
We accomplished this with the following:
STILLEN 370Z GEN3 LONG TUBE INTAKE
STILLEN 370Z INTERCOOLED SUPERCHARGER
I guess 3 really is the magic number after all 😉