ANNOUNCING STILLEN'S ALL NEW SCION FR-S / SUBARU BRZ BODY KIT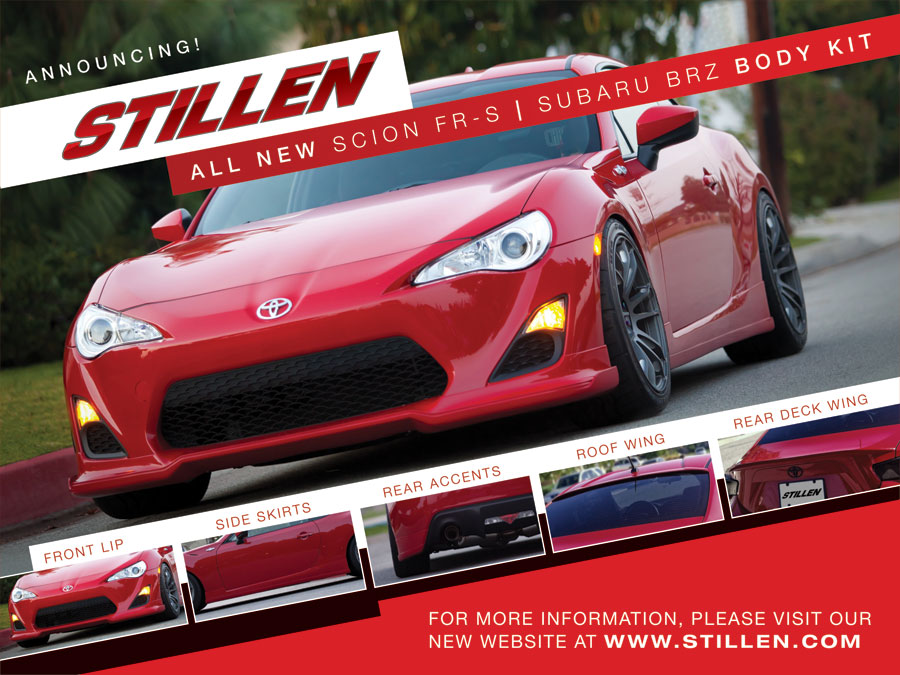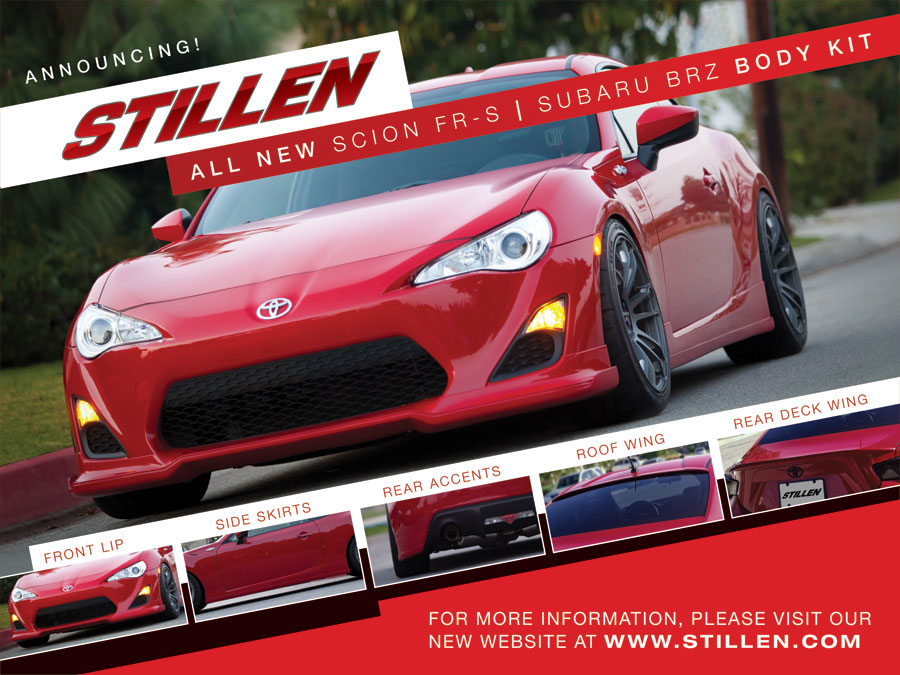 Continuing STILLEN's long-standing heritage of producing OEM-quality polyurethane body kits, we're excited to release the highly anticipated body kit components for the new Scion FR-S and Subaru BRZ.
These OEM-quality body components are the result of a community-sourced design contest publicized on Facebook.
After a two month open entry period, top finalists were picked by STILLEN's staff from over 100 design entries. The top contestants were then voted on by STILLEN Facebook fans. After a tight race between Greg Thompson and Mohammed Irfendy, Thompson took the win as people's choice.
The parts were sculpted at STILLEN's modeling shop in Costa Mesa, CA. Final production pieces are manufactured out of OEM-quality polyurethane in-house at the STILLEN headquarters and manufacturing center. Polyurethane has many benefits for aftermarket automotive applications, the most obvious is it will maintain an OEM-quality finish without cracking, as opposed to composites like fiberglass or carbon fiber.
Components are available separately, as well as packaged together as complete kits. The components include:
POLYURETHANE FRONT LIP SPOILER
This clean yet aggressive lip spoiler has a strong visual effect on the front of the FR-S. Installs over the OEM fascia, and has body lines to ease in painting the piece a 2-tone for additional effect, or can be painted completely body color as well. Front lip spoiler fits FR-S only.
POLYURETHANE SIDE SKIRTS (ROCKERS) WITH REAR CORNER ACCENTS
This 4-piece kit includes both passenger and driver-side side skirts, and also includes rear corners for both sides. Like the lip spoiler, there are body lines present to incorporate a 2-tone paint scheme if desired. Side skirts replace the OEM skirts, and the rear corner accents cover the OEM rear fascia.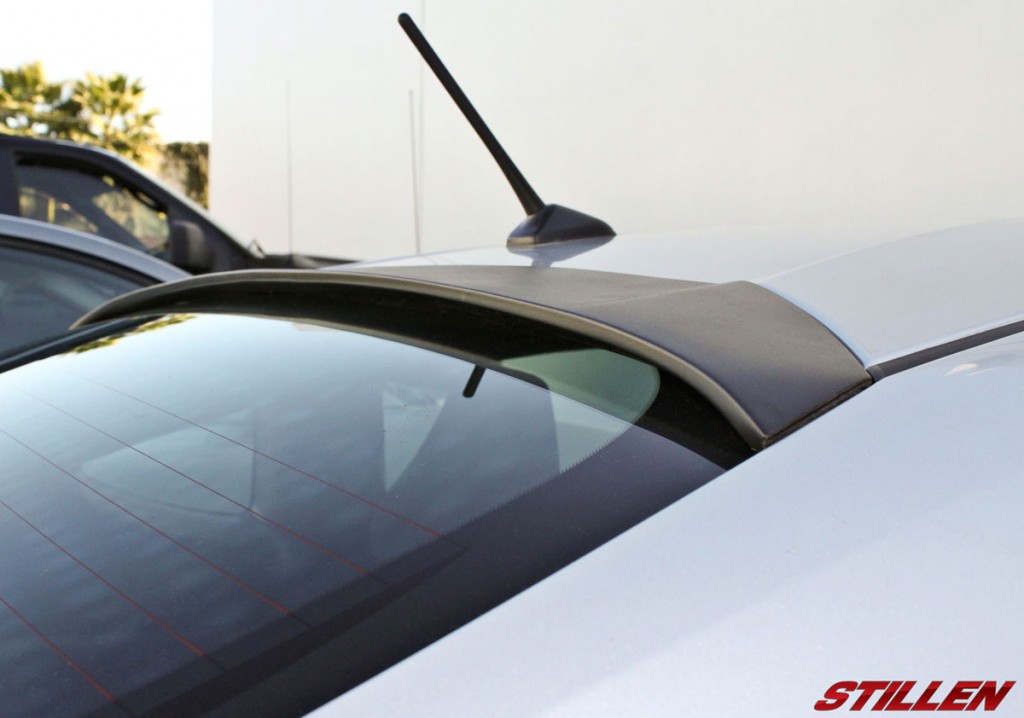 POLYURETHANE ROOF WING
A unique element which rounds out the body kit, seeming to extend the roof line into the rear window. Installs at the top of the rear glass, designed specifically to match the contours of the vehicle.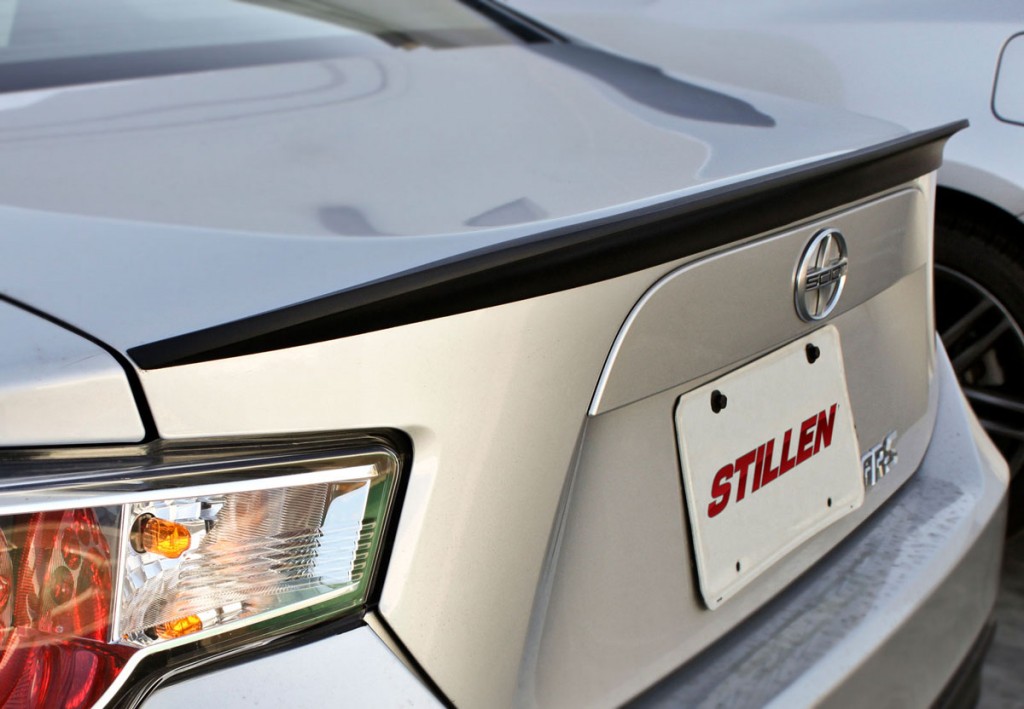 POLYURETHANE REAR DECK WING
This simple design element adds a surprisingly large amount of character to the rear trunk. Easily installed and does not require drilling.
FOR MORE INFORMATION, PLEASE VISIT OUR NEW WEBSITE AT WWW.STILLEN.COM