The Chevy Camaro SS has been a staple in the STILLEN Performance Shop for a while now and is always welcome for a Camaro LS3 supercharger install. We bolted on a Magnuson Supercharger to the 6.2L V8 motor, but this time with a different look… a Wrinkle Red finish.
Magnuson Camaro LS3 Supercharger Install
You may remember the beautiful Victory Red Camaro SS in the shop back in June, but this Camaro LS3 supercharger install is slightly different, this Magnuson Supercharger has a wrinkle red finish. The wrinkle red Magnuson Supercharger is not as common as the black finished version, in fact, you'll be hard pressed to find one as we have sold out of this color and is now only available as a special order, but the bright red color gives an aggressive look and style to this black Camaro LS3 engine bay.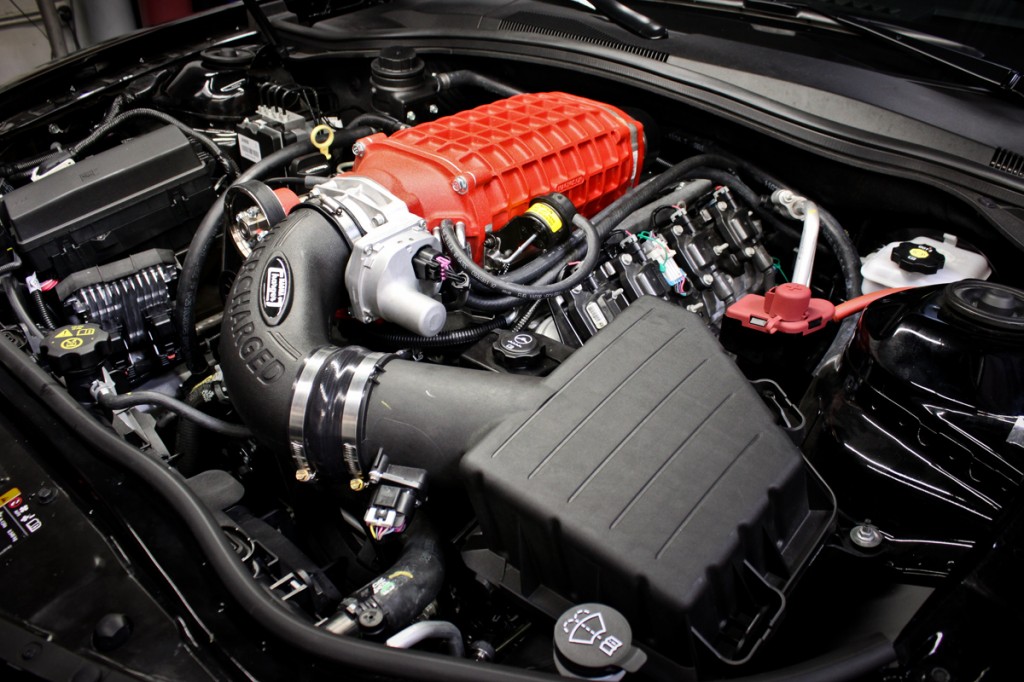 The Magnuson Camaro LS3 Supercharger is a hybrid-roots supercharger with OEM-like fitment that does not require any modifications to the hood.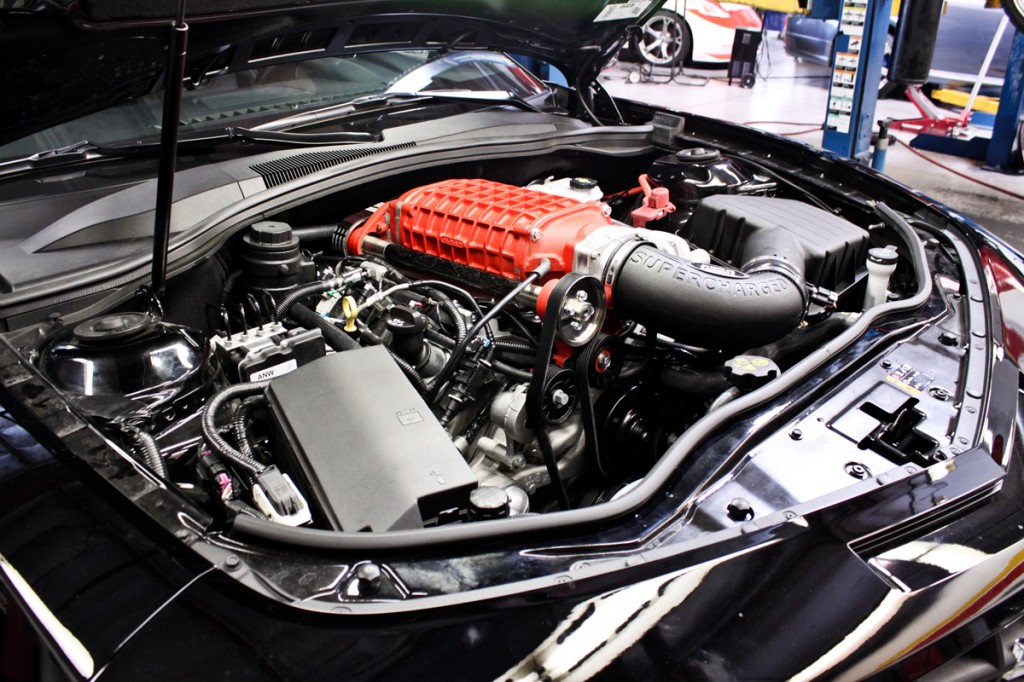 You can rest assured knowing this bolt-on system carries a 3-year / 36,000 mile warranty on supercharger hardware and a 1-year limited warranty on electronics. Magnuson also offers an optional 3-year / 36,000 mile, 5-year / 60,000 mile or 5-year / 100,000 mile powertrain warranty for the Camaro LS3 supercharger at an additional cost. Visit the Magnuson Superchargers website for more warranty information.
In addition to Magnuson Superchargers, STILLEN is an authorized dealer and installer for Edelbrock Superchargers, Vortech Superchargers, and Whipple Superchargers.
Camaro Magnaflow Exhaust Install
A Camaro Magnaflow Exhaust is a perfect companion to any Supercharger install, creating better exhaust airflow as well as a smooth deep tone. The Magnaflow 100% Stainless Steel Cat-back Exhaust System shows dyno proven increases in both horsepower and torque and carries a lifetime warranty.
For more information on the Camaro LS3 Supercharger Install, the Camaro Magnaflow Exhaust Install, or any other aftermarket performance parts for your vehicle, please give us a call at (888) 366-0686 or visit the STILLEN website.