If you're looking to get more height out of your truck and not sacrifice good looks or functionality, and fit up to 35" tires, McGaughy's got exactly the kit for you with their new GMC Lift Kits that will raise your 2014 Silverado or Sierra 1500 a whole 7" into the open air!!! Take your truck up a whole 7 inches and ride way higher than just about anyone else on the highway, right up there next to the 18-wheel rigs.
The GMC Lift kits are available to 2014 Silverado OR Sierra, 2WD and 4WD owners, there's minimal cutting required, and the kit comes complete, including the rear shocks. With front and rear cross-members that drop suspension components you're assured to maintain stock ride quality, and each kit comes with a pair of heavy duty compression struts, as well as new tie rods. So, if you've got a 2014 GMC 1500 truck and want to lift your truck, don't hesitate to order one of these McGaughy's 7 inch Chevy Silverado lift kits, because these things literally raise the bar higher than the competition can, and in true McGaughy's fashion they were the first to market.
New McGaughy's GMC Lift Kits:
Part# 50768 – 2014 2WD 1500 GMC Lift Kits – Seven Inch+
Part# 50769 – 2014 4WD 1500 GMC Lift Kits – Seven Inch+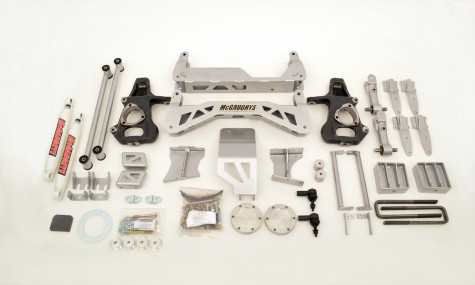 To speak to an expert and place an order, give us a call at (866) 250-5542. You can check out our whole product line at STILLEN, or just look through the McGaughy's products we carry. If you need to schedule an appointment for anything from routine maintenance or install to a full build, visit the Performance Shop site to see what we have available to help meet your needs.