MagnaFlow has released an IS350 Exhaust system for the new 2014 Lexus, with its new styling and features. This IS350 Exhaust is nothing to be scoffed at, because it's dyno tested and proven to make power and provide gains in horsepower and torque, and it replaces the hardly impressive stock IS350 exhaust with a sleek system. MagnaFlow stands by their product and has placed a lifetime warranty on this IS350 exhaust, so you can rest assured that the 100% stainless steel product is not only dependable, but backed up by an industry leader's policy.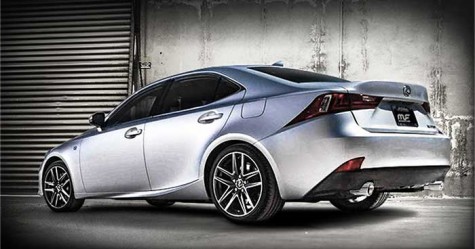 Your 3.5L V6 needs to breathe, so give it the IS350 exhaust and its expanded ability to have more free flowing exhaust, and get the satisfaction of knowing you're not just giving the engine more power and feeling those results at the wheels, it's beyond that. You're going to turn heads with the MagnaFlow IS350 exhaust and its stylistic design that adds a certain flare to your already beautiful machine, and the ears of anyone from enthusiast to clueless are going to perk up a bit when they hear you drive by.
Part # 15227 – IS350 Exhaust by MagnaFlow

You know you want to make your redesigned and refined Lexus stand out in the crowd, and one of the cheapest, easiest and most bang-for-your-buck practical modifications you can make is the new MagnaFlow IS350 exhaust. The 5x8x14-inch mufflers and 4-inch polished stainless tips are not only turning attention toward you but transforming form into function with the results you'll get from this easy to install system.
To speak to an expert and place an order, give us a call at (866) 250-5542. You can also check out the whole list of available products at STILLEN, or see just what we carry for MagnaFlow. If you need to schedule anything from a routine maintenance or installation, to a full build visit the Performance Shop site.